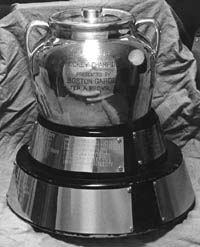 #1 Boston University faces #3 Northeastern. BU has the most Beanpots (28), Northeastern has the fewest (4). Northeastern hasn't won the title since 1988. They beat the Terriers that year. But they've lost 4 straight title games since then. They lost all 4 to BU.
These teams faced each other in November, with BU winning convincingly, 3-0. But since then, Northeastern has turned it on. NU goalie Brad Thiessen made 45 saves against BC in the opening round, and is arguably the best netminder in Hockey East.
But this is BU's tournament. BU has beaten a laundry list of good teams already this year. North Dakota, Michigan State, Denver, Northeastern, UNH, BC. I think they have more depth than the Huskies, and they'll be more poised in the big game.
BU 3, Northeastern 2.