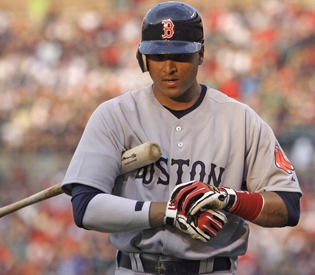 It's a good thing the Tigers weren't also trying to buy Liverpool. In case you haven't heard, the word is that the Tigers have signed Victor Martinez to a 4 year, $50 million deal. I guess that was too much of a commitment for the Red Sox, who once signed JD Drew to a 5 year, $70 million deal. The Sox once spent $51 million just to talk to Matsuzaka. They once gave Mike Lowell a 4 year, $60 million deal. They extended Josh Beckett's deal by 4 years for $68 million. They signed Lackey to a 5 year, $82.5 million deal.
They also just spent nearly half a billion on a soccer team that is over $400 million in debt. But $50 million for a consistent hitting catcher was too much. That was just too much of a commitment for the Red Sox.
I'm tired of hearing John Henry, Tom Werner, and Larry Luchino come on WEEI and pat themselves on the backs for spending the second most money in baseball, for spending their budget. Maybe it's time to raise the budget, guys. The Sox spent the second most last year, and had the 10th overall record. So maybe they should realize "we made some big contract mistakes." And instead of not spending, they could help alleviate those mistakes by spending a little more.
I don't expect them to outbid the Yankees for Cliff Lee. But I do expect them to not lose quality free agents to the Detroit fucking Tigers. Detroit, like every other team in baseball, is looking to improve. The Sox are content to be "contenders." Even though, they're not contenders, not in the AL East.
The Sox owners are not interested in winning. At least, not in baseball anymore. They want to win Premier League titles, and FA Cups. They're bored with the Red Sox. They had our fun, and now they've moved on.
And every bullshit, propaganda explanation we get from the Globe, or from WEEI, or from the Front Office itself, will only piss me off further. How come nobody asks how much the Sox made in 2010? How much was their profit. We KNOW that their payroll was on budget. And they just made a major purchase, so they must have some funds lying around.
I don't care if the Sox have a payroll of $60 million, or $300 million. I WANT THEM TO WIN. I understand that owners can't spend more than they make. But you know what, don't take the profits you make from our team, then use it to buy a second-rate, collapsing soccer team in England. Henry, Werner, and Luchino aren't from here, so they might not realize that we don't like the British here. Maybe we should fill Fenway with water and pour tea in it.
Good luck in Detroit, Victor. The Tigers obviously care more about winning than the Red Sox.