Vegas favors the Patriots by 2.5 to 3. Which seems a little strange. The Pats were 13-3, and were the AFC's #1 seed. The Giants went 9-7, and were the NFC's 4th seed, even though they had the 6th best record. Of course, the Giants beat the Patriots 24-20 at Gillette Stadium in early November.
I don't want to play the underdog card too much here. As I said, Vegas is favoring the Patriots. Which means people are putting their money behind the Patriots. But the fact that questions like "Would you rather have Eli or Brady?" are being asked at all seems a little weird to me.
The Giants appear to match up well against the Patriots. They have a strong 4 man pass rush that can pressure Brady but also leave 7 men in coverage. On the other side of the ball, the Patriots have the 31st passing defense, allowing 293.9 yards per game in the air. The Giants have a good QB, with a bevy of weapons for him to throw to. Victor Cruz, Hakeem Nicks, Mario Manningham, and tight-end Jake Ballard who caught a TD against the Pats in November.
As bad as the Patriots' pass-defense has been, people don't seem to be noticing how bad the Giants are at defending against the pass. The Giants are 29th in yards allowed. Opposing QBs have an 86.1 rating against the Giants. What is the QB rating for Patriots' opponents? 86.1. Isn't that funny.
And since when has Eli Manning become an elite QB? I heard one pundit say that Eli's success is due to his not making mistakes anymore. Really? Doesn't make mistakes anymore? He threw 16 picks this year, 7th most in the NFL. He threw 25 picks last year.
He's been excellent in the postseason so far, with 8 TDs, only 1 INT, and a 103.1 rating. But his whole career has been defined by inconsistency. And he was hardly dazzling back in November against the Pats.
The Patriots lost that game because Brady wasn't as good as he should have been. They lost because they made mistakes like missing a 27 yard field goal. They lost because they turned the ball over 4 times. Brady threw 2 interceptions and fumbled. Edelman muffed a punt. The Giants scored 10 points off turnovers.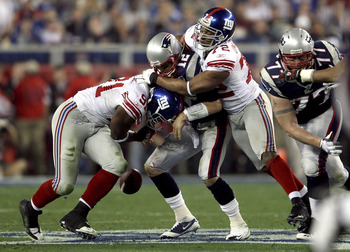 Eli Manning is the best QB that the Patriots will face in these playoffs. But he doesn't scare me. The November game was actually one of the better games played by the Pats' defense. People are talking about Ahmad Bradshaw not playing in that game and how much it helps the Giants that he's back. But the Giants were 32nd in the NFL in rushing for a reason. Bradshaw rushed for 3.9 per carry this year, and never once eclipsed 60 yards in a game.
And to be blunt, rushing the ball against the Patriots is doing their defense a huge favor.
This game comes down to one person. And his name is Tom Brady. How he throws, and how he's protected, and how he executes will determine if the Patriots win or lose. I know I've been saying it all year, but it is all about Brady, Brady, Brady.
The Patriots beat the Ravens without a fully effective Tom Brady. They won't be able to pull the same rabbit out of the hat twice. Brady needs to have a good game for the Patriots to win. And if he has a great game, the Patriots will win. No matter what Eli does against the Pats' defense.
One thing that unnerves me is that for the past few years Brady's tried to force the play in big games. He's thrown into double coverage with no margin for error. For example: that deep ball in the Ravens game intended for Slater. No need to try to be that perfect in one throw. He needs to realize that it's better to throw a couple good passes instead of forcing yourself to throw one absolutely perfect one. Because if a good pass is off, it's incomplete. If the attempted perfect pass is off, it's an interception.
I think Brady and the offense will execute on Sunday. At the very least, they won't turn the ball over as easily as they did in November.
Gronkowski's health will play a huge part in the Patriots' offense. He caught 8 passes in that November game. He's Brady's #1 target in the Red Zone, and he's a good receiving option to have if Brady is getting hurried. When Brady needs to press the panic button, he can throw to Gronkowski's general direction and Gronk will haul it in. If he's healthy.
Let's not forget about Wes Welker, though. Welker would have been Super Bowl MVP in 2008 had the Patriots been able to hang on. He caught 11 passes in that game. He caught 9 passes for 136 yards in November. He also had a 13 yard run. He will have a big game on Sunday.
The Giants are vulnerable against the run. They allowed 121.3 yards per game on the ground, 19th in the NFL. In November, BenJarvus Green-Ellis ran well at the start of the game, 52 yards on 12 carries. Then for some reason Ridley and Woodhead got more of the carries. They didn't do as well (combined 10 carries for 36 yards). This might have been due to Ellis' health, or might have simply been a play-calling mistake.
Look for Ellis to get the ball with regularity on Sunday. Not only do the Giants give up chunks of rushing yards, but a strong run can also slow down and wear out a pass-rush. Then of course comes play-action. Ellis can also become an outlet receiver, chipping a lineman then sitting in the middle of the field or the flat for a safe pass. J.R. Redmond style.
Brady will not look at Ochocinco unless he's clearly on the good side of a mismatch.
In the November game, Brady targeted Ochocinco 5 times. This was before we all accepted the fact that Ochocinco is not a significant part of the offense. It was Game #8. In the first 8 games of the season, Brady targeted Ochocinco 21 times. In the 10 games since then, Brady's targeted him 11 times. So from 2.6 targets per game down to 1.1.
Why is that a good thing? Because it demonstrates that the Patriots have adjusted their offense. Ochocinco was thrown to at key moments in that November game. And it didn't go well. Now, he won't be. Brady will be looking for someone else.
One thing this offense has done remarkably well this season is adjust, adapt, and evolve. Adjust to coverages, adjust to pass pass rushes, adjust to Ochocinco's inability to adjust, and so on. The Patriots didn't adjust back in 2007, they simply kept hammering away at the same thing the same way.
They've adjusted since November. The Pats have won 10 straight since that game. The Giants are 6-5 since that game. Yet somehow they've been billed as the red hot team. And give credit to them for their playoff wins. But they are prone to inconsistency.
I think the Patriots' offensive line will man-up and slow down the Giants enough for Brady to find open receivers. We can talk about schemes and strategies all we want, but football usually comes down to one group of guys outplaying another group of guys. It'll be up to the Pats' offensive linemen to protect Brady and make holes for Ellis.
I think BJGE will also slow down the pass rush and set-up a few 2nd & 2 situations. Eli will put up a few TDs, but he'll throw a pick or two. The Giants will score, and will have one or two painfully unstoppable drives. But they won't keep up with the Pats.
Patriots 34, Giants 27.