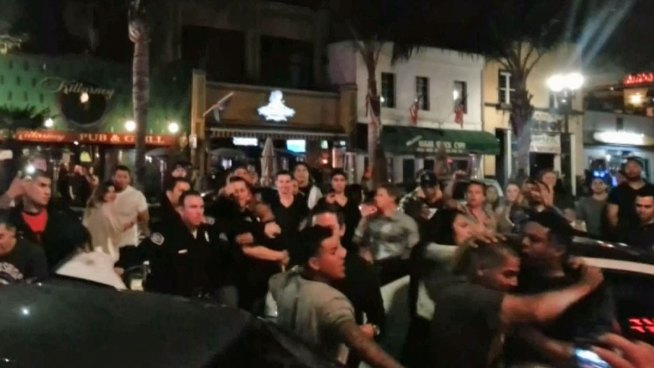 It seems like every year there's a seriously violent incident outside a California ballpark, and I'm curious to know why. I've only been to California twice, never to a ball game, and everyone some really laid back and chill. I'd say too laid back. Yet almost annually we hear stories about fans attacking fans after games. And these aren't just fights, these are brutal incidents.
In 2011 a Giants fan, named Bryan Stow, was attacked by two Dodgers fans outside Dodgers Stadium. He was beaten so badly he was put in a medically induced coma. He's still in a wheelchair.
In 2013 a Dodgers fan, named Jonathan Denver, was stabbed to death by Michael Montgomery after a Giants game. "According to witnesses, Montgomery had a bottle in his hand for self-defense while Denver was punching him. After Denver's brother grabbed an aluminum chair and hit Montgomery on the head with it, Montgomery dropped the bottle, took out a knife, and stabbed Denver."
And then early Sunday morning, a fight between female Dodgers and Angels fans escalated, and a US Marine who reportedly tried to help break up the fight got stabbed in the face with a broken bottle. The story is that a couple of girls were fighting outside a bar, 3 guys (the Marines) tried to break up the fight, the girls' boyfriends showed up and one of them stabbed a guy in the face with the broken bottle.
So why the violence, California?
And why are your incidents on a completely different level of violence? How come the fights at most ballparks involve fists, and yours involve blunt objects and knives and broken bottles?
And it's not just baseball. In 2011 after a 49ers-Raiders preseason game in San Francisco, two people got shot in the parking lot.
So what the hell, California?