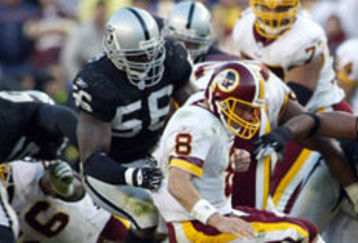 You go from the Black Hole of Oakland to the sunshine of Foxborough. The Pats won 11 games last year. The Raiders have won 11 games in the last 3 years.
The Patriots traded a 3rd round pick in the 2010 draft, as well as a 5th rounder in the 2011 draft, for 2 time Pro Bowler Derrick Burgess. Burgess played at defensive end for the Raiders, but the Pats will most definitely use him as an OLB (he only weighs 260 lbs).
He won't start, but he can provide a nice pass rush off the edge on certain downs. He'll relieve Pierre Woods, with Adalius on the opposite side. I'm not a big Pierre Woods fan, so I love this deal. The less time Woods has on the field to mishandle potential fumbles, the better.
With an inexperienced secondary, the Pats needed more of a pass rushing threat, and Burgess is it. He only had 3.5 sacks in 10 games last year, but from '05 to '07 he amassed 35 sacks.
In more good news, Brady practiced without a knee brace on Thursday.