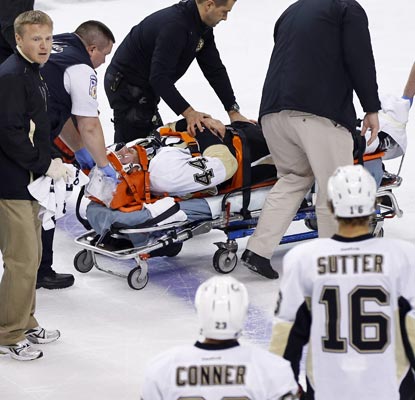 I don't like what Shawn Thornton did Saturday night. But I don't mind who he did it to, and what team he did it against.
What Thornton did was inexcusable and indefensible. He should and will get suspended a long time for it. The reason it was inexcusable was because Brooks Orpik was defenseless.
However, hitting defenseless players is a consistent pattern of Pittsburgh Penguins hockey. Great offense, shaky goaltending, dirty hits. That's the Penguins' way. And that's why I feel no sympathy when I see a Penguins player lying on the ice. Why should I? That's the sword they live by, and it should be the sword they (metaphorically) die by.
Maybe if enough Penguins get concussed, they'll reevaluate how they play the game. Maybe if Sidney Crosby gets laid out the same way Marc Savard was by Matt Cooke, and has his career shortened, then the Penguins might look in the mirror and realize that hockey shouldn't be played the way they play it.
Thornton's attack on Orpik came after a double dose of Pittsburgh dirtiness. Sidney Crosby kept the blade of his stick on the ice to ensure he tripped up Brad Marchand. The ref, of course, didn't call it. No big deal. That is until James Neal saw a prone player. Neal's eyes must have lit up when he saw an opportunity to hit someone when they couldn't defend themselves.
You can see Neal change directions toward Marchand, and keep his left knee exactly at the same height as Marchand's skull.
To paraphrase Chris Rock: I'm not saying Shawn Thornton should have retaliated the way he did. But I understand.
Earlier in the game Orpik leveled Loui Eriksson. I think that hit was relatively clean. If anything, a 2 minute minor for interference as Eriksson didn't have the puck.
What pisses me off about Orpik and the hit on Eriksson is that Orpik has made a career of dispensing hits like that, and then never EVER standing up for himself and for his actions when someone wants to fight him over it. He doesn't answer the bell. Just drop the gloves, protect yourself, fall to the ice and wait for the linesmen to break it up. That's all he has to do. But he doesn't. He hasn't fought in 5 seasons.
Orpik, like most of the Penguins, is only brave when his opponent can't see him. Or when his opponent is horizontal on the ice, like Marchand. Or when he can use his stick as a weapon.
Chris Kelly is now out 4-6 weeks with a fractured fibula. Pascal Dupuis was not penalized for the blatant and completely unnecessary slash. The League has decided not to discipline Dupuis.
If players felt compelled to answer the bell after hits like Orpik's hit on Eriksson, perhaps guys hesitant to fight, such as Orpik, wouldn't be giving out so many concussions with legal seek-and-destroy hits. If Orpik knew he would have to defend himself in a fight later, Loui Erksson might not have gotten a concussion.
By the way, where's the sympathy for Eriksson? Second concussion in five weeks.
The NHL suspended James Neal 5 games for kneeing Marchand in the head. I doubt if that will alter Neal's behavior. He's been warned, fined, and suspended before. And he still plays the way he plays. And he still fails to express any remorse or regret for it. Just as he failed to show remorse for kneeing Marchand:
"I haven't, like, seen the replay or anything, so I mean I hit him in the head with my leg or my foot or my knee or shin area. I don't know. But I mean, he's already going down, and I guess I need to try to avoid him, but I have to look at it again...

"I mean, what do you want me to say? That I was trying to hit him? No, I'm going by him. I don't get out of the way, like I said. I need to be more careful and I guess get my knee out of the way, but I'm not trying to hit him in the head or injure him or anything like that."
Contrast that with Shawn Thornton.
Which player do you think is more likely to repeat what they did?
At least the NHL has given out some sort of punishment to a Penguins player. When Matt Cooke wasn't suspended for the Savard hit, the NHL failed to curb a dirty player and a dirty team. Instead they gave him and the Penguins license to do as they pleased.
The Penguins will continue to play the Penguins Way that the NHL sanctioned when they didn't suspend Cooke. At least until something changes. Until they lose more players to suspensions. Or until they lose more players to concussions.
Thornton seemed sorry that Orpik got hurt. I'm not sorry. I don't care. I guess Thornton has more character and class than I do. But I'm just sick of players like Orpik, like Crosby, like Neal, like Dupuis. And until that team changes the way it plays, I won't shed a tear for their troubles or injuries.