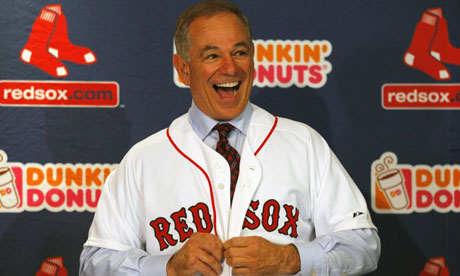 It's official. Bobby Valentine is no longer the Manager of the Red Sox. There's no word if he'll stay with the team in the other roles he took upon himself: psychologist, motivational speaker, media manipulator, philosopher, food inventor. We know he won't be filling out any lineups, showing up late to the clubhouse, or forgetting which hand the opposing pitcher pitches with.
Bobby Valentine deserves blame for this 69 win season. Not all of it, not most of it, but a piece of the blame pie sits on his plate. More importantly, any future success will not be likely, and might not even be possible with him as the Manager. He's too distracting and too intrusive. He's a bad Manager. Maybe that's why the Red Sox were the only MLB team willing to hire him since 2002.
Valentine got fired not because 2012 was his fault, but because he's an obstacle to success in 2013.
I don't remember him doing anything smart. He called out Kevin Youkilis, then retreated. He didn't call out players like Josh Beckett. He made game decisions with pitchers, particularly Jon Lester, based on their self-esteem. He brought up subjects (such as Youkilis) with the media, then complained that media was talking about said subjects. It was as if he wanted to make his statement, convince everyone he was right, and move on without any further discussion.
The players didn't respect him from the start and why should they? I didn't respect him. The owners were wrong to give the players an audience for their grievances, but that doesn't change the fact that Valentine is not a respectable leader.
He's a clown. A buffoon. A quack. On a serious note I think he has some deep psychological issues. He has no actual confidence, just a mask of arrogance.
I wonder if he'll show up to Red Sox Spring Training next year wearing a fake mustache.