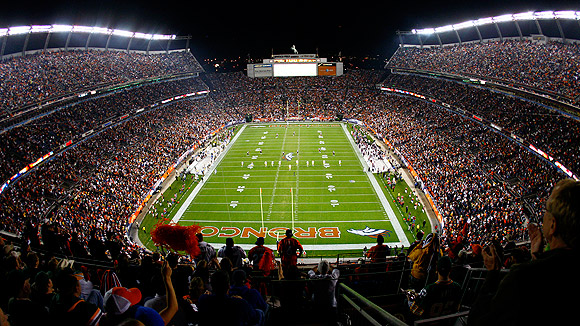 There's a good chance you've already heard this story. Both the Denver Broncos and Seattle Seahawks have gotten cute and decided to try to keep visiting team fans from going to Sunday's Conference Championship games. They're doing this by not selling tickets to people with addresses outside of their region. Only fans with addresses in the Rockies can buy tickets to the AFC Championship, and the NFC Championship is being sold exclusively to those living in the Pacific Northwest.
It's ridiculously childish. And moronic. StubHub and Craigslist don't care where your money comes from. Neither do the countless other legitimate ticket brokers and illicit scalpers.
And who wants a stadium filled exclusively with their own fanbase? That's the remarkably childish aspect of this. That
hurts
atmosphere and crowd noise, it doesn't help it. Visiting team fans add to the raw emotional intensity of football. Just look at college football and the hordes of Alabama and Texas fans that follow their teams around the country. They come to town, they rile up the opposing fanbase, everyone takes the game personally because their enemy is sitting two rows behind them, and they want to see you feel miserable because your team failed. They cheer when your favorite player fumbles. They cheer when you're pissed. They're against you. I fucking hate them, don't you?!
That got away from me there but that's the kind of intensity visiting fans can bring.
I've been to every home Patriots game since 2007 and some of the most exciting atmospheres I've experienced at Gillette Stadium involve large numbers of visiting fans, especially at playoff games (the Ravens and Jets drew the most). There's tension in the building because of the animosity between the groups. There's a building energy as fan groups verbally react to every play and then emotionally react to each other's reactions. There are raised stakes because you spent an hour talking trash to the punk in the Revis jersey and you'd hate it if he gets to spend an hour talking trash to you. Victory becomes more enjoyable, defeat more painful. All on a personal level.
By the way there were plenty of Denver fans and Tebow fans at Gillette Stadium two years ago when the Broncos played the Patriots in the playoffs. We let you into our house. You can't extend the same courtesy to us?
Denver and Seattle don't want excitement and tension. They want monochromatic, bland, conformist fans at their games. No Brady or Kaepernick jerseys. Just Manning and Wilson. No blue and silver in Denver. No red and gold in Seattle. Everyone dressed the same, everyone cheering for the same team, everyone enjoying themselves the same. How very nice and pleasant. But the words "nice," and "pleasant" have no place in football.
That's just boring, just lame, just stupid. Grow up, Denver. Grow up, Seattle.