So, we have seeds 5 thru 12 playing off against each other, with 4 teams advancing to the quarterfinals. I have no qualms with the way this tournament has been formatted, but they didn't do anything to make it easy to explain.
Here are the games Tuesday, and my little previews/predictions. In parenthesis, you'll see who the winner of each game will play in the quarterfinals.
3pm - USA Network: Belarus vs. Switzerland (winner vs. USA)
A pair of scrappy teams with only a few NHLers. This game provides the best matchup of Tuesday's action (not surprisingly, it's the 8th seed vs. the 9th seed). Switzerland has impressed me a great deal. Not only has Jonas Hiller been excellent, but the Swiss have executed a watertight defensive gameplan. They lost to the US 3-1, took Canada to a shootout before losing in 4 rounds, and then beat Norway.
Belarus fought hard against #2 seeded Sweden (say that 3 times fast), but I don't think they have the firepower to overcome Hiller or the Swiss' stifling defensive play.
Switzerland 3, Belarus 1
8pm - CNBC: Canada vs. Germany (winner vs. Russia)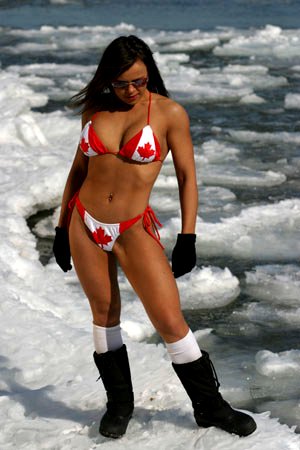 Both teams have disappointed me, but the Canadians hockey team might be the biggest Olympic disappointment in the history of the Winter Games... so far.
I expected more from a German side with 7 NHL players. I remember in '98 when the Germans had 0 NHLers on their squad. But they've lost their identity. They're trying to be like Finland when they should play more like Switzerland. Will they figure this out? Yes. Will it matter? No.
Canada rolls over Germany as if it were curling, 7-0.
10pm - CNBC: Latvia vs. Czech Republic (winner vs. Finland)
The only team worse than Germany is Latvia. These teams met in group play, with the Czechs finishing on top 5-2. Latvia scored half their goals in that game. The Czechs will cruise in this one, 6-1.
12am - CNBC: Norway vs. Slovakia (winner vs. Sweden)
The Slovaks lost to the Czechs, then beat the mighty Russians, and crushed the lowly Latvians. It's hard to really gauge how they're playing.
Norway lost all their games, but they did take Switzerland to overtime. They're big, they don't have anything to lose. Canada and the US simply outclassed the Norwegians, but I don't think Slovakia has the talent to do the same thing. I'm picking an upset here, with the Norwegians winning 3-2 in OT.
So when I'm right, the quarterfinals will be:
USA vs. Switzerland
Canada vs. Russia (juicy)
Czech Republic vs. Finland
Norway vs. Sweden
You know what, the US's route to the Gold Medal Game could be Switzerland then Finland or Czech Republic. They won't have to face Sweden, Canada, or Russia unless it's for the Gold (which means a Silver when they lose). Not too shabby a bracket for the USA.