The drama over who would go #1 or #2 sort of fizzled out as it became clearer and clearer that Edmonton would take winger Taylor Hall. The Bruins' #2 overall pick was then a no-brainer.
1st ROUND, #2 OVERALL: C, TYLER SEGUIN - PLYMOUTH WHALERS (OHL)
Get it? Plymouth WHALERS. Anyway, some Bruins fans actually seemed a little disappointed with this pick. "We have too many centahs!" Well, the Bruins are deep down the middle, but they don't have SCORING centers. Savard's a 20 goal guy, max. Krejci's a 20 goal guy, max. Bergeron's a 20 goal guy, max. Seguin scored 48 times in 63 games last season. The Bruins are now overweight at center, which in a salary cap environment means that they must be weak somewhere else (and it's on the wings). It might be time to trade Savard. Although Krejci would bring better value. And I'll be frank, Krejci's a bit too inconsistent for my liking. And how many "quarterbacking" centers does a team without "receiving" wingers need? I think one is plenty.
What will Seguin do for the Bruins right away? I think he will likely play, depending on what the Bruins do with their current top 3 centermen. He could score 20 goals right off the bat if given a full season to play. Long-term, the sky's the limit. 35, 40, 50 goal seasons are not going to be impossible for this kid.
2nd ROUND, #32 OVERALL: C, JARED KNIGHT - LONDON KNIGHTS (OHL)
The Bruins surprised a lot of people here. Knight was projected to go much later. His stock fell a few months ago when he was diagnosed with diabetes. But he's gotten that condition under control. He's also got the puck under control, as evidenced by his 36 goals in 63 games. He's only 18, so he's got a few years of developing to do.
2nd ROUND, #45 OVERALL: C, RYAN SPOONER - PETERBOROUGH PETES (OHL)
Another 18 year old center who scores lots of goals. He's not big. 5' 10" and 172 pounds. But he's fast. The Bruins could use some speed, especially if the speedy guy is also the guy who can score.
4th ROUND, #97 OVERALL: LW CRAIG CUNNINGHAM - VANCOUVER GIANTS (WHL)
The Bruins took their first winger, and took him from Milan Lucic's "alma-mater." He'll turn 20 in September. He didn't come into his own until his 4th year with Vancouver. His points totals have increased considerably with each season of experience. He had 5 his rookie season, then 25 his 2nd year, doubled to 50 in his 3rd, and doubled to 97 this last season. Then again, he was a man amongst boys at that age.
5th ROUND: #135 OVERALL: LW JUSTIN FLOREK - NORTHERN MICHIGAN U.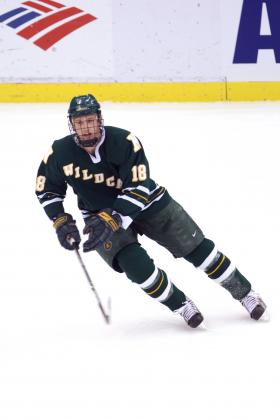 This 6' 3" 195 pound soon-to-be sophomore has a big frame that could one day house a power forward's body. There's some potential there, but he'll need a lot of work to be an NHL calibre guy. He'll also likely need to show some edge (fight), which he won't be allowed to do in college.
6th ROUND: #165 OVERALL: G ZANE GOTHBERG - THIEF RIVER FALLS HS (MN) & U. OF NORTH DAKOTA
He'll turn 18 in August, and he's committed to play at North Dakota, a good training ground for goalies. But it's not like he was a top priority recruit either, so it won't be Zane Zeit (Zeit = German for "time") until maybe 2016.
The Bruins ended the draft with a trade. They sent Vladimir Sobotka for the rights to David Warsofsky. Warsofsky is currently playing at BU. He's 20 years old, from Marshfield, and he's a defenseman. He's only 5' 8" and 160 pounds, but he's an adept offensive player. He scored 12 goals in 34 games for the Terriers last season. He's a sophomore, and should develop well out of BU.
I was hoping Sobotka would find a spot on the 2010-11 Bruins, though. He was a tough guy, solid on the puck, hard to beat when he didn't have the puck. A guy who can play 3rd and 4th line hockey, and maybe even kill a penalty. Not a brawler, but a scrapper and a mucker. Oh well.
Zdeno Chara has 13 inches and 95 pounds on Warsofsky.