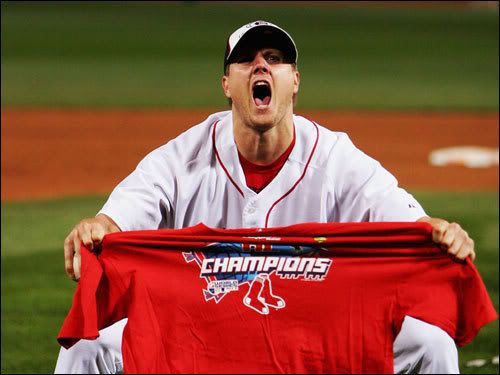 Can you believe it? The Red Sox are in the World Series. AGAIN!!!! For the second time in four seasons, the Sox are the best team in the American League.
This is something new for the Red Sox. We're used to long droughts in between World Series. It was 18 years in between 1986 and 2004. Eleven years in between '75 and '86. Eight years in between '67 and '75. Twenty-one years in between '46 and '67. Twenty-eight years in between 1918 and '46. For the first time since the 1910s, the Red Sox will be playing in a World Series multiple times in a decade. By the way, we won 4 World Series in that decade.
Game 7 last night was a nerve racking duel until both bullpens were in the game. Westbrook got out of tough jams with the double play ball. Matsuzaka also escaped trouble thanks to the double play. All in all, Matsuzaka pitched a solid game. He went 5, allowing 2 runs. He sputtered at the end, but he gave us a great chance to win the game.
Something we did reminded me of the 2004 team. We kept piling on. In Game 7 of the 2003 ALCS, we got a nice lead, then sat back as Jason Giambi chipped away at us, then the Yankees rallied and won the game in extra innings. In Game 7 of the 2004 ALCS, we got out to an early lead, but kept adding on. We did the same thing last night.
The MVP of the series was Josh Beckett. That was a no brainer. He went 2-0, pitching 14 innings, allowing 3 runs off 9 hits and 1 walk. He struck out 18. His 8 inning, 1 run performance in Game 5 was perhaps the turning point of the series. It forced a return to Fenway Park and seemed to bedazzle Cleveland's hitters for the remaining games.
An honorable mention should go to Kevin Youkilis, who hit .500 in the series. That is not a typo, he hit .500, going 14 for 28. He scored 10 times and knocked in 7. His OBP was .576, and he slugged .929. He hit 3 homers, a double, and a triple. He only struck out 3 times.
Another honorable mention should go to Manny Ramirez, who went .409 with 2 homers, 10 RBI, and an OBP of .563. Manny also had a big outfield assist of Lofton in Game 7. Although Lofton appeared safe, the throw was good enough to help fool the umpire.
Toward the end of the series, David Ortiz and Mike Lowell cooled off a bit. Ortiz had 3 RBI in the series and wound up with a .292 average. He did get on base, though, and was able to score 7 runs.
Lowell wound up with a .333 average for the series. He had 8 RBI, but only scored 3 runs, mostly due to ineffectiveness by the hitters behind him.
Dustin Pedroia and JD Drew started off slow, but picked up the slack at the end. Pedroia exploded last night and finished the series at .345 with 8 runs scored and 5 RBI. Drew had the big hit in Game 6 and wound up hitting .360 with 6 RBI in the series.
The bullpen trio of Papelbon-Okajima-Timlin performed perfectly. Combined, these three had 13.1 innings pitched, all scoreless. They allowed 8 hits, 4 walks, and struck out 9. Our other bullpen pitchers, well, they didn't do so good.
Julio Lugo had one of the worst playoff series I ever seen for a winning team. He was 5 for 25, somehow hitting .200. His OBP was .231, and he slugged .280 for an anorexic .511 OPS. Coco Crisp also had a disappointing series at the plate, but at least Coco fields his position, and fields it well. Lugo made what could have been a gigantic error in a 3-2 game last night, then he had that double clutch that prevented a double play being turned. He looks horrible.
The World Series begins on Wednesday at Fenway Park. Josh Beckett goes against lefty Jeff Francis. These are two of the hottest pitchers in baseball right now. It should be a hell of a game and a hell of a Series.