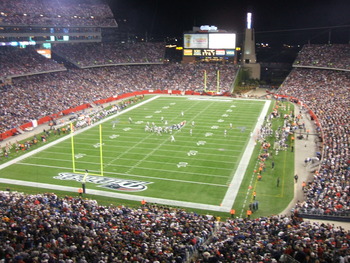 There was a story the other day about a Super Bowl being played in London. I think a bit more likely possibility is a Super Bowl being played in New England. And why not?
The reason the Super Bowl has always been played in the South or in domes is the weather. But who cares? Football is the sport that's supposed to be played rain or shine, warm or cold. Wouldn't a well fought, snowy Super Bowl go down as one of the most memorable anyway?
The NFL doesn't seem to care much about climatic complications anymore. They've staged games in cold weather cities like Detroit and now Indianapolis. And in 2 years they'll be playing outdoors in New Jersey. Foxborough is only a few degrees colder.
The NFL obviously divides the money that the Super Bowl takes in among the 32 teams. But what about all the money that gets poured into the economies of cities that host the big game. Why should Tampa Bay, Dallas, Glendale, and Miami rotate the Super Bowl between them and rake in all the cash?
So much money would be made. Hotels would be full. Restaurants and bars would be full from Norwood to Norton. People would go into Boston and take tours of Fenway Park and Faneuil Hall. They'd go to a BC basketball game or a BU hockey game. They'd eat our lobsters and drink our Sam Adams.
It happens every year. Thousands of fans and media descend on a city and spend money. So why not have it here in New England?
As a sports fan, it'd be thrilling to host such an event. And as a Massachusican, it'd be great for the economy.