I didn't make any picks in Week 2, I was away. Week 3 doesn't feature many exciting matchups. But the most classic college games usually come from the matches you'd least expect. I was 3-3 in Week 1. Here are my selections for Week 3:
All games are on Saturday
12:00PM - ESPN
#12 Arkansas Razorbacks @ Georgia Bulldogs
I'm taking UGA simply because the game is in Athens. I think Arkansas is a great team, but winning on the road in the SEC is no picnic. My gut's saying Go Dawgs! Georgia wins 31-27.
12:00 PM
Georgia Tech Yellow Jackets @ North Carolina Tar Heels
Both teams have fallen short of expectations. Both teams have fallen out of the rankings. UNC has some solid talent, and I'm picking them to win a key game here. UNC 20, GT 14. But I'm posting a picture of a Georgia Tech girl because it's wicked hot.
12:00 PM - ESPNU
Maryland Terrapins @ #21 West Virginia Mountaineers
I'm not impressed by WVU. They barely beat Marshall, and that was thanks to several mistakes from the Herd. Maryland is tough to gauge. They could be good, could be bad. I think West Virginia is undisciplined, and will take this game too lightly. Terps win 28-27.
3:30 PM - ESPNU
BYU Cougars @ Florida State Seminoles
Both teams are looking to get back on track here. BYU was bombed by Air Force, FSU was smoked by the Sooners. I could go either way on this game. I think Florida State has the talent to win what's a vital game for both teams. FSU 38, BYU 31.
7:00 PM - ESPN
Clemson Tigers @ #16 Auburn Tigers
Auburn escaped Mississippi State by the skin of their teeth. But Clemson really doesn't have any teeth. It's kind of sad, but this will serve as a tune-up game for Auburn. AU hosts that other team from South Carolina (the Gamecocks) in two weeks. That other team is ranked. Clemson keeps it close, but will never be a true threat. Auburn 17, Clemson 10.
8:00 PM - ABC
Notre Dame Fighting Irish @ Michigan State Spartans
Notre Dame sucks. MSU is actually half-decent. Easy to pick the Spartans here.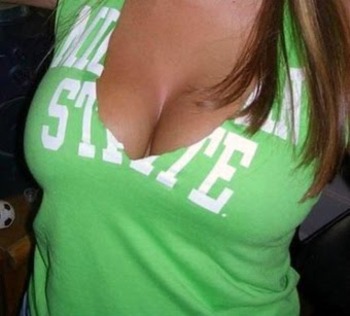 10:30 PM - ESPN
#9 Iowa Hawkeyes @ #24 Arizona Wildcats
I still think Iowa will win the Big Ten. But this is a rough trip for them. Arizona has been a pleasant surprise, and will squeeze one out. Arizona 21, Iowa 17.