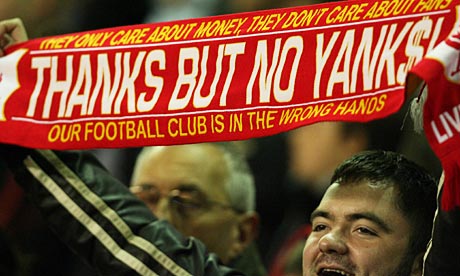 The owners of the Boston Red Sox are expanding their sporting conglomerate to Old England, purchasing soccer team Liverpool FC. The acquisition itself will cost New England Sports Ventures (NESV) about 300 million Pounds, or $476 million.
That's actually a fairly low price for a world famous soccer club like Liverpool. In January,
Forbes Magazine
valued Liverpool at just around $1 billion. So why the discount?
Because, as they say in England, Liverpool is in the shit. Both competitively, and financially.
They're currently 18th in the 20 team English Premier League. And in case you don't know, the 18th, 19th, and 20th placed teams in the Premier League are demoted to the minors at the end of each season. It's called relegation.
But it's early in the season, and Liverpool should avoid that fate. At the same time, they'll likely fail to qualify for the European Champions League (a competition between the top club teams in Europe, which also pays out huge cash prizes for qualification, advancement, and winning. The top 4 English teams qualify).
And that brings us to Liverpool's financial woes. The club is 280 million Pounds ($445 million) in debt. That's why they were so cheap to buy. And as part of the purchase, NESV has claimed that they'll repay that debt. So in essence, NESV is paying $476 million to buy the team, then another $445 million to get it out of debt. That's a $921 million total price tag.
You could pay Adrian Beltre $15 million a year, for 61 years, with that money.
I'm not John Henry's financial advisor. I don't care if he makes money or loses money on this deal. I'm a soccer fan, but Arsenal FC is my team, and I'm fairly indifferent to the fate of Liverpool.
But I am a Red Sox fan.
And as a fan, it irks me that our ownership is taking on such a massive undertaking. They want to return Liverpool FC to competetive prominence (18 English titles in their history, but 0 since 1990). They also want to return it to solvency. It's an involved and difficult project that will take time, effort, ingenuity, and resources.
It sounds eerily similar to something like buying a Boston based baseball club in 2002. An historic franchise that hasn't won in awhile, plays in an antiquated facility, and struggles to make money. Is that the Red Sox in 2002, or Liverpool in 2010?
But the competition is much stronger and much higher in number for Liverpool. The Red Sox only had to contend with one New York Yankees. In England, there are several teams with that level of resources and clout. Manchester United, my Arsenal, Tottenham. Not to mention clubs like Chelsea and Manchester City, which are owned by sketchy international billionaires that pour huge sums of cash into their teams.
And it doesn't stop there. Liverpool has to compete with teams from Spain, Germany, Italy, France, the Netherlands, Portugal, and so on. These teams are constantly bidding against each other for talent (players are rarely free agents, their contracts are typically bought and sold by teams, for huge amounts of money), not just playing each other on the field.
These teams also compete for fans (and ultimately, money) across the globe. Liverpool has an international following, but not nearly on the scale as Manchester United's, or Real Madrid's.
As a Sox fan, I don't like this situation one bit. The Sox need to be rebuilt, after finishing 3rd. Fenway Park has improved over the past decade, but it's still a 100 year old relic. The Yankees are improving, both competitively, and financially. And the Sox are remaining stagnant. Could you imagine the Yankees front office publicly (or privately), discussing a "Bridge Season?"
How does the purchase of a financially struggling soccer team help the Sox? Is there any synergy? NESN can't broadcast Liverpool games, because like the NFL, the Premier League negotiates TV contracts as a whole. Maybe Liverpool can come to Fenway every summer and play a game. But how much extra cash can that generate? Englishmen hate baseball. And Americans hate soccer.
I didn't mind NESV's acquirement of 50% of a NASCAR team a few years ago. The team had recent success, but just needed an influx of capital. The team's other owners still ran the racing and the business, and it didn't seem like NESV needed to pay much attention to what was going on.
At the same time, it's not as if Roush-Fenway has been a spectacular success. And it's certainly helped the racing team more than the baseball team.
It's disturbing that while the zeal for improving the Red Sox has gradually petered out, it's coincided with this notion of resurrecting Liverpool. There's a new flame in John Henry's life. He has a new challenge. And he'll dive into the dealings of Liverpool FC, and probably hire the right people to turn it around, invest resources properly, and maybe Liverpool will return to the elite echelon of the soccer world.
But it will come at the expense of the Red Sox. Henry and NESV won't let the Sox get worse. But they won't do everything possible to improve them, not like they did back in 2003 or 2004. We'll have more bridges than Madison County around here.
Hopefully I'm wrong. But every time the Sox pinch a penny instead of retain/acquire talent, we can guess that Liverpool FC needs to buy a new midfielder.
Red Sox Nation, John Henry has found someone else. He's not interested in us anymore. It's not us, it's him. Remember, he's from Quincy, Illinois, not Quincy, Massachusetts. And to any Liverpool fans reading this, he's not from Merseyside either, so enjoy his attention and affection while it lasts.