Saturday was almost a cataclysmic day for some powerhouses. There were close calls and near misses from Athens to Corvallis. But for the most part, things went as planned Saturday. For the most part. Here are the lessons:
1. NEBRASKA HAS ALREADY WON THE BIG XII NORTH
The Cornhuskers have yet to play a Conference game, but there's nobody in the Big XII North to challenge them. Kansas lost to Southern Miss on Saturday. Missouri barely beat SD State. There's just nobody in that division on the same level as NU.
2. CAL, UCONN, CINCINNATI, AND OLE MISS SUCK
These teams weren't expected to be contenders, but they were expected to be good. Cal lost to Nevada. UConn fell to 1-2, losing to lowly Temple. Cincinnati only managed 19 points in a loss to NC State. Ole Miss couldn't take care of Vanderbilt at home.
3. THE SEC IS BETTER THAN THE BIG TEN
I can't believe there was a text message poll about this during some game. What makes the SEC so great is its depth. SEC teams face relentless schedules. After Ohio State, there's a big dropoff in quality in the Big Ten. Iowa lost to Arizona, and Wisconsin barely beat Arizona State at home. ASU sucks. No excuse for that. Michigan very easily could have lost to Massachusetts. Then there's crap teams like Minnesota, Illinois, Indiana, Northwestern, and Purdue.
4. WHAT HELPS DENARD ROBINSON, WILL ULTIMATELY HURT HIM
241 yards passing, 104 yards rushing, 2 passing TDs, 1 rushing TD. Denard Robinson was once again almost the entire Michigan offense. And while that boosts his Heisman candidacy, the fact that his supporting cast got exposed against UMass may ultimately cost him the Heisman. When Michigan plays legit teams, Robinson might throw for 250, rush for 100, and lose. And if Michigan doesn't contend, Robinson's Heisman campaign takes a big hit.
5. MARK INGRAM IS A BEAST
151 yards and 2 touchdowns for Ingram as he returned to Bama's lineup. In their 62-13 molestation of Duke, the Tide amassed 315 yards just on the ground. They had 626 yards of total offense, and held Duke to 302. Alabama goes through the gauntlet the next few weeks. @ Arkansas on the 25th, vs. Florida on 10/2, then @ South Carolina on October 9th.
6. SOMETHING'S UP WITH OKLAHOMA
Oklahoma has had close calls with Utah State and now Air Force. The Sooners haven't run the ball as well as they should, and their defense has been mediocre. They face Texas in two weeks, so there's time to work the kinks out.
7. OREGON IS SILLY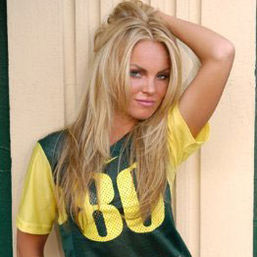 I'm not overly impressed with Oregon, at least not as much as the experts are. I do think they deserve their #5 ranking, but beating Portland State 69-0 isn't as impressive as beating Stanford 14-13. That being said, Oregon is averaging 63 points a game (1st in country), and allowing 4.3 points per game (1st).
8. THE POLL VOTERS ARE STUPID
Everyone complains about "computers picking the National Champion." But at least the computers (actually, it's a math equation devised by human beings) are unbiased and are not complete and utter morons. How is it that James Madison got 8 votes in the AP Poll? I would love to see the full ballots of the morons who voted for JMU, just to see who else they had. And how does Texas get a #1 vote instead of Alabama or even Ohio State? Then in the Coach's poll, Nebraska got a #1 vote. Somebody actually reasoned that Nebraska has proven they're better than Bama.