The Celtics are out. But you still want a reason to go out drinking on a Tuesday night and celebrate with your fellow Bostonians. And in a surreal twist of fate, you're watching Boston Bruins games. Because the Bruins are, at the moment, the best sports team in New England.
I'm not going to judge you for being a bandwagoner. Bandwagoners are byproducts of success. I remember once in 2005 I was mocking a friend of mine because she had a turquoise Sox hat and didn't know who Mark Bellhorn was. Then she made the very poignant argument, that why should I care what "grade" of fan other people were. She argued that the team winning should be more important to me. Since then, I don't really care who's a bandwagoner, who's a frontrunner, who's a fair-weathered fan, who's a die-hard, et cetera.
But here's a basic guide to hockey for you newer fans. It's a complex game, and I won't bother to explain the intricate nuances. This is strictly a 100 level course so you don't get too lost.
1. Zones
The ice is divided by blue lines into three zones (ignore that red line at the middle, it's meaningless). The offensive zone, the neutral zone, the defensive zone. The offensive zone is where your team shoots. The defensive zone is where the opponent shoots. The neutral zone is between the blue-lines.
2. Offsides:
The puck has to be the first thing into the offensive zone. Offensive players can't beat the puck over that big blue line. If they do, there's a whistle, then a faceoff outside the zone.
3. Icing:
You can't just slap the puck out of your defensive zone and all the way up the ice. Doing so results in a faceoff back in the defensive zone, and you can't change your players. Sometimes, icing is waved off. It's too complicated to explain why and when that happens.
4. Penalties:
When someone commits a penalty, they have to go into the penalty box, and their team can't replace them on the ice. So one team will have 5 skaters against another team's 4. It's called a Power Play, and it's an excellent opportunity to score. The more common penalties you'll see:
High-sticking: One player's stick accidentally or intentionally hits an opponent high in the head/shoulder area.
Interference: Hitting someone who doesn't have the puck.
Hooking: Using the stick to hook an opponent, usually in the mid-section.
Tripping: Using the stick to trip an opponent.
Slashing: Using the stick to... you know.
Holding: Using hand(s) to impede the progress of an opponent.
Roughing: Difficult to define. Any physical play that's beyond the normal pushing and shoving.
Fighting: Usually doesn't result in a Power Play because it does indeed take two to tango and each team's player will receive a penalty. Fights are rare in playoff hockey, but they do happen, and they're tolerated, but still penalized.
5. Following the Puck:
New fans often find it difficult to follow the puck. Especially if they've been drinking and/or take their eyes off the screen for a moment. Don't worry. Most of the action occurs away from the puck, and the best plays happen so fast that you need slow motion replays to see what really happens anyway. So don't get too overly focused on the puck, and don't worry about losing it.
6. Who is on the Ice?
Changing players on the fly is integral to hockey's constant speed. But it also means that casual fans drinking beers and munching on a basket of wings have no idea who is on the ice or when. So listen to the play-by-play guys to figure that out. Remember that the defensemen hang out by the blue-line on offense, the forwards move around the net. On defense, the defensemen hover around the net, the forwards skate around near the blue-line. That's all you need to know. And that very large man with a #33 on his back is Zdeno Chara. You'll always be able to recognize him.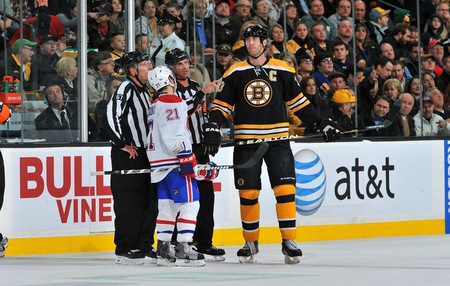 7. What's the "C" and "A" mean?
"C" stands for Captain. You should know that from your pinkhat love of Jason Varitek. "A" stands for Alternate Captain. There is one C and two A's on each team. They're the only players allowed to discuss things with the refs.
8. Why the Beards?
It's sort of a playoff tradition/superstition for players to let their beards grow out. I don't know what female hockey players stop shaving during big tournaments. Nor do I care to find out.
9. Goals, Assists, Points
Obviously you know what a goal is. Assists are given to the last two teammates to touch the puck before the goal-scorer (unless one of them is the goal-scorer himself). Points are just a player's goals, plus their assists. Always call a goal a goal. It's not a point.
10. Plus/Minus
The +/- stat keeps track of how well a team does while a certain player is on the ice. If a player is on the ice when his team scores, his plus/minus goes up 1. If he's on the ice when the opponent scores, it goes down 1. The scoring or allowing of Power Play goals do not affect this stat. All you need to know is that a positive "plus/minus" is indicative of good overall play. Example: Dennis Seidenberg finished the Philadelphia series +10.
PLAYER CHEAT SHEET
Just a few quick notes on some Bruins players that you can drop at the bar and sound like a knowledgeable fan.
Tim Thomas: Spent a significant amount of his early career playing in Finland, winning awards for best goalie in 1998, and best player in 2005. He'll likely win the Vezina this year, which is given to the best goalie. He won the Vezina two years ago.
Zdeno Chara: Tallest player in NHL history at 6' 9"
Daniel Paille: Failed to make the starting lineup for most of the season. Now part of the 4th line, and an important penalty killer (he's on the ice when the opponent has a Power Play).
Dennis Seidenberg: Born in Schwenningen, Germany. One of 8 German born players in the NHL.
Shawn Thornton: Scored a career high 10 goals this year. Thornton, along with teammate Gregory Campbell, is one of only 6 NHL players to score 10+ times and fight 10+ times this season.
Mark Recchi: 43 years old, 1,652 NHL games, plus 175 playoff games. Won the Cup in '91 and 2006. 19th all-time with 577 goals, 13th all-time with 956 assists. You just need to remember that he's old, he's played a lot of hockey, he's scored a lot of goals. The Bruins acquired him via trade with the Tampa Bay Lightning.
Nathan Horton and Brad Marchand: This is their first time playing playoff hockey. They've done well for themselves, each scoring 5 times in the playoffs.
PRONUNCIATION HELP
You don't want to sound like a jackass by mispronouncing the names of the players. So here's some phonetic assistance with the tougher ones.
Patrice Bergeron: Pat-reese Burj-ur-awn
David Krejci: David Kray-chee
Rich Peverley: Rich Pev-er-lee (it's not a French name)
Tyler Seguin: Tyler Sayg-in (hard G)
Milan Lucic: Mee-lawn Looch-eech
Brad Marchand: Brad March-and (like the month)
Daniel Paille: Dan-yell Pie-yay
Mark Recchi: Marck Reck-ee
Johnny Boychuk: Johnny Boy-chuck
Zdeno Chara: Zuh-day-no Char-ah
Andrew Ference: Andrew Fair-ence (rhymes with fence)
Shane Hnidy: Shane Nie-dee (ignore the H)
Tomas Kaberle: Toe-mah-ss Cab-er-lay
Steve Kampfer: Steve Camp-fur
Dennis Seidenberg: Dennis Side-in-berg
Tuuka Rask: Too-kah Rask (sounds like rash)
Claude Julien: Klo-d (rhymes with road) Jewl-ee-en