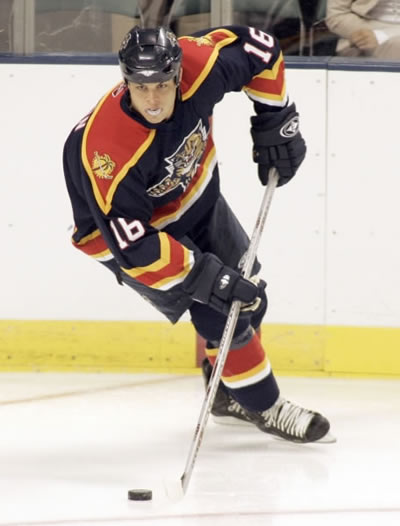 The Bruins made a pre-draft trade today, sending Dennis Wideman and their 15th overall pick to Florida for winger Nathan Horton, and center Gregory Campbell.
Horton scored 20 goals for the Panthers last year. He only just turned 25, and has three seasons left on a deal worth $4 million a year. His production has actually fallen off the past few years. He scored 28 in his first full season, then 31 the next year. Then it's been slowly downhill with 27, then 22, then 20.
But unlike Blake Wheeler, or Michael Ryder, he's at least kept himself above that minimum 20 goal level. And it's not like the Panthers have playmakers to help him out, either. He lead his team in assists with 37. And the Panthers had the 3rd worst offense in the League.
Gregory Campbell is most notable for being the son of NHL Director of Hockey Operations Colin Campbell. The Bruins might use him to be a 4th line center, but apart from that he serves little purpose. He'll be a restricted free agent this off-season.
One of the reasons Florida were so willing to give the Bruins Horton was that he has a no-trade clause that kicks-in after the off-season. So the Bruins are stuck with him.
That being said, Horton and Wideman consume about the same cap space. And even though Wideman had a great postseason, his regular season was abysmal. He had two seasons left on an inflated deal, and the Bruins are deep at defense as is.
I'd say this is an improvement, and overall a good deal.