More overtimes, more injuries, more suspensions. I can't decide if these playoffs are the best I've ever seen or the worst.
PANTHERS 4, DEVILS 3 - (Panthers lead series 2-1)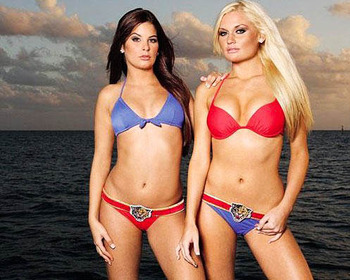 What makes the NHL Playoffs so compelling to watch is their unpredictability. Everyone figured New Jersey had the easiest draw in the playoffs. They'd roll over the 94 point Panthers. People were even pointing to this matchup as a reason to change the playoff system. But the game isn't played in theory, or by "experts." It's played by players on ice.
The Panthers were down in 3-0 less than 7 minutes into this game. They came back thanks to 3 Power Play goals. The Panthers are 6 for 10 on the PP. 6 Power Play goals against the best PK in the regular season (89.6%). The Devils only allowed 27 PP goals all season long, or about 1 every 3 games. Now they've allowed 6 in 3 games.
Game 4 Thursday night in Jersey.
PREDATORS 3, RED WINGS 1 - (Predators lead series 3-1)
Another example of how regular season trends mean nothing in the playoffs. Detroit had the best home record in the NHL, with 31 wins. They've lost to Nashville twice on their home ice.
All the scoring occurred in the 3rd. The Predators have preyed on Detroit's defensive lapses. The Red Wings are all chasing the puck carrier, not protecting the area in front of the net or covering other players. The Wings outshot Nashville 41-17, but Pekka Rinne did his job, stopped 40 shots, and gave the Predators a chance to win.
Game 5 Friday night in Nashville.
COYOTES 3, BLACKHAWKS 2 (OT) - (Coyotes lead series 2-1)
All three games of this series have gone into overtime but the big story of this series have been the hits to the head and the suspensions. In this game, Chicago's Marian Hossa was wheeled off the ice on a stretcher after Raffi Torres checked him in the skull. Here's the hit:
He targeted the head, he launched himself, and it could be argued that it was a late hit and a charge. Torres has an extensive history of dirty play. Exactly one year ago to the day, he did this:
Torres was suspended once already this season. Last year he was suspended for 5 games at the end of the regular season and into the playoffs. Given the nature of this hit combined with his history, he should be banned for the remainder of the playoffs.
Honestly, I don't think players like Raffi Torres belong in the National Hockey League. I don't think the League should tolerate them, merely slapping them on the wrist as they repeatedly misbehave.
Game 4 Thursday night in Chicago.
Tonight's games:
7:30pm - Rangers @ Senators - CNBC - Rangers lead 2-1
7:30pm - Penguins @ Flyers - NBC Sports - Flyers lead series 3-0
10:00pm - Canucks @ Kings - NBC Sports - Kings lead series 3-0