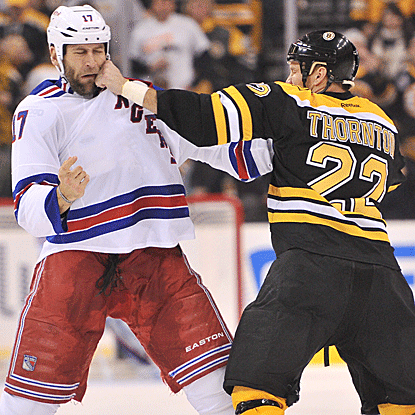 A few nights ago I thought that we'd spend this week discussing how to fix the Bruins after an epic collapse. Now we're looking forward to another series. A winnable series. Despite the issues this team still has, along with some injuries.
The Rangers are not the Maple Leafs. They're actually very similar the Bruins. They play a conservative defensive system. They rely on goaltending. Their forwards play a big part in their defending. Their Power Play isn't that good (23rd in the NHL). They have talented forwards, but it always seems like a handful of players are in a slump at any given time.
Rick Nash, for instance, had 0 goals and 2 assists in the Washington series. Brad Richards had 1 goal and 0 assists. As a team, the Rangers only managed 16 goals in their 7 game series against the Caps.
What's scary is that the only allowed 12. And they haven't been scored on for 6 straight periods.
The Bruins, who already struggle to score, will continue to struggle against the Rangers. That's why the B's will need every frontline forward to step-up and contribute what they can. No more series long slumps from Marchand or Seguin. And the 3rd line has to find a way to at least threaten to score.
I'm not sure about much with this series. On paper, the Rangers should do well. They're perennial Cup favorites because of their Vezina winning goalie, their defensive system, and their talented forwards. They just seem to lack that intangible quality that propels a team through the Stanley Cup Playoffs. That thing that makes a no-name 4th-liner a one game hero, that urgency that causes a team to score with the goalie pulled to force overtime, that ability to win the series changing overtime game. The Rangers have never shown much of that.
Then again, they made the Conference Finals last year. So maybe they do have that X-factor and I just have been oblivious to it.
Something that troubles me as a Bruins fan is how banged up the B's defensemen are. We don't know how much time Seidenberg and Ference might miss. And these guys are vital to the way the Bruins do things in the playoffs. Seidenberg is Chara's wingman, and Ference always plays at top gear in the playoffs.
This is a tough series to pick. I have to lean toward the Bruins, just because they have that intangible, indescribable something that can win a tough game in a tough series. So long as Rask does his job, and stops a few big breakaway shots after the Rangers block shots on the other end of the ice. It's up to you, Tuukka. He doesn't have to outplay Lundqvist, but he's got to make the big stops in the big moments.
So Bruins in 7. With multiple overtimes throughout the series.