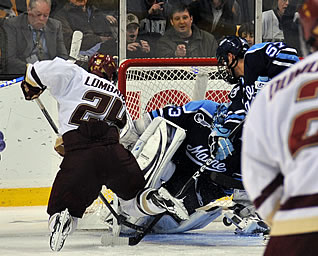 BC Assistant Captain Matt Lombardi entered Saturday night's Hockey East title game with 3 goals on the season. He had 3 goals in the game, as the high-flying BC offense held off a hungry Maine side that refused to go down without a fight.
I'm a BC fan, but I'll admit to wanting to see Maine win here. They've had a solid year after back-to-back dismal 13 win seasons, and a win would've given them an automatic berth in the NCAAs. Their resume is not good enough for an at-large bid.
The Black Bears never led the game, but they never trailed by more than 2 goals. Three of their scores came on the very next shift after BC had scored. They never let the Eagles get out of sight. But the Eagles were too good, too loaded.
BC has potential to do some serious damage on a national level. They've earned a #1 seed, along with the privilege of playing the first two rounds in nearby Worcester. They're a fast, deep team with ample experience at several key positions. This will be the 3rd NCAA Tournament for some of BC's seniors.