The Red Sox are halfway through the regular season. They are 50-31, in first place of the AL East by 10.5 games over Toronto, 11 games over New York, 14 games over Baltimore, and 17 games over Tampa Bay. The Red Sox have the second best record in baseball, slightly behind the Angels and slightly ahead of the Indians. They are 25-14 at Fenway Park, and 25-17 on the road. They are 16-9 against Eastern divisional opponents, but have yet to face the Devil Rays. They're 9-4 against the Central, and 13-12 against the West. They finished Interleague play with a 12-6 record.
The Red Sox are on pace to win 100 games and lose 62. They have scored 400 runs, and are on pace for 800. This is somewhat disappointing. Last season, we scored 820 total runs. In 2005 we scored 910 to lead the AL. In 2004, we had 949 runs. We've managed to win games thanks to our phenomenal pitching. We have a team ERA of 3.71. Last year, our team ERA was 4.83. This season's ERA is even better than our ERA in 2004, which was 4.18.
What's interesting about our lack of offense this season is that our off-season focused on improving our run production. We signed JD Drew and Julio Lugo to bolster the offense. Lugo has been a wretched disappointment, hitting an abysmal .189. Last season, Alex Gonzalez hit .255, which is hardly earth-shattering, but was better than Lugo's effort in 2007.
Jason Varitek, Kevin Youkilis, and Dustin Pedroia have all increased the production of their positions compared to last year. Mike Lowell is also producing well. JD Drew hasn't done as well as hoped, but he hasn't been a complete hole.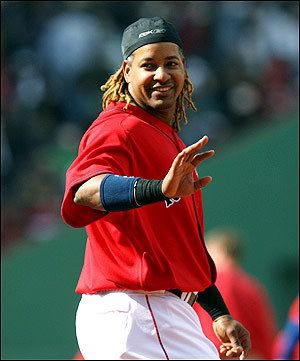 A major difference between 2006 and 2007 is the production out of left-field, also known as Manny Ramirez. In his shortened season, Manny knocked in 102 runs. He is on pace to knock in 88 this season. He only had 449 at-bats last year, and is on pace for 576 this year. In other words, 125 more at-bats, and 14 fewer RBI. Manny's average is lower, as well: an unimpressive .288. His OBP is also lower, down to .386 compared to .436 in 2006. His slugging is down as well. He slugged .619 in 2006, but is only slugging .472 this year. He hit 35 homers last year, despite the missed games. He's on pace to hit a mediocre 22 this year.
His strikeouts are slightly lower than normal. In his career, Manny has struck out once every 5.31 plate appearances. This season, it is one strikeout every 6.67 plate appearances. On the surface, this is good. Strikeouts are non-productive outs, and are typically indicative of a poor at-bat. However, coupled with Manny's walk numbers this year, something else becomes apparent.
In his career, Manny has walked once every 7.25 plate appearances. This season, he is walking once every 7.43 plate appearances. This is a negligible difference, especially considering the small sample size of 327 plate appearances. However, it's still more plate appearances in between walks. The lower strikeouts, and the fewer walks, means his at-bats are shorter. His lower average means that he isn't getting more hits with these shorter at-bats. So he's swinging early, and getting outs.
Manny is seeing 3.83 pitches per plate appearance. Last year, he saw 4.16. The 3.83 pitches per plate appearance is a career low for Manny since he became a full-time player. Manny isn't working the count. He isn't waiting for his pitch. It isn't that he's falling behind, it's just that he isn't letting himself get ahead. Manny is one of the smartest hitters I've ever seen. He works pitchers, he sets them up, gets his pitch, and pounces. This season, it isn't that there is much wrong with his swing. He's just swinging at incorrect pitches. Maybe, he'll be a tad bit more patient in the 2nd half of the season. If his production returns to the lineup, the entire offense will benefit dramatically. If he's hitting like normal, we'll score 20 to 30 more runs in the 2nd half of the season than we did in the first (if everything else stays the same, of course).
David Ortiz is also not producing what we're used to seeing from him. He's been very good this year. His OBP and average are actually higher than last year's totals. But his slugging is down. Last season, he hit 54 homers. He's on pace for 26 this year. While his homers have been cut in half, his doubles have doubled. He's on pace for 54 doubles. He had 29 last year. Considering his lack of homerun power, his RBIs aren't down that much. He's on pace for 98 RBI, which is good considering the lack of leadoff production we've had.
If David and Manny get to hitting the way we're used to seeing them hit, our offense will be very productive.
Julio Lugo is on pace to have one of the strangest statistical seasons I've seen. He's hitting .189 with a .260 OBP, and slugging .281. He's also on pace to steal 40 bases, and knock in 68 RBI. But he's only on pace to score 66 runs, and THAT is the major problem. He can steal a base every time he gets on, but he hasn't gotten on at all. Actually, he's stolen a base once for every 4 times he's reached base safely. Even before his 0 for 30 stretch, he was a disappointment at the plate. He's also got 9 errors in the field, which doesn't help much. That's not an obscene amount of errors, but we've seen short-stops like Gonzalez, Reese, and Sanchez struggle offensively, but still play great defense. Lugo is not contributing offensively or defensively.
Right now, the short-term solution is to play Cora some more. I wouldn't be shocked if we were trying to acquire another middle infielder in the trade market. The Red Sox have the lowest leadoff production in baseball.
Crisp and Drew have been less than stellar, and Wily Mo has struck out 40 times in 107 at-bats. But we've got Jacoby Ellsbury and David Murphy down I-95.
Kevin Youkilis and Mike Lowell have been the offensive leaders on the team. Youk leads the team in hitting, Lowell and Youk are tied for 2nd on the team in slugging, and Lowell leads the team in RBI, and is the only Sox hitter on pace for more than 100 RBI.
If the Red Sox can somehow generate 450 to 470 runs in the 2nd half of the season, they will finish with the best record in baseball, so long as the pitching holds up.
Our pitching has been sensational. Josh Beckett is on pace to win 22 games. Daisuke has settled down and now sports a 3.80 ERA and a 9-5 record. Tavarez has been very solid for a #5 pitcher, on pace for 170 innings with a 4.39 ERA. As of late, he has been much better.
Schilling has been mediocre on the whole, with spots of brilliance and spots of dullness. He can bitch and moan about people who don't "play the game" but he needs to sit down, shut up, stay on the DL, and return if AND ONLY IF he can help this team win more than a guy like Tavarez is helping us win. Up to now, he hasn't really done that consistently enough.
Kason Gabbard has filled in adequately as a spot starter, and Jon Lester should be returning, but I really think that the Sox could use another front line starter. If we get a good #3 pitcher, we'll have a great post-season rotation.
The back end of the bullpen is great. Papelbon and Okajima are the best finishing combination we've had on the team in a long time. Before them, Donnelly is having a solid season. Lopez has been a mediocre reliever. Nothing special, nothing horrible. Snyder has been a good middle reliever. Apart from these guys, however, the bullpen is lacking. Pineiro and his 5.04 ERA are essentially useless in any close fought game. JC Romero has already earned his walking papers. Mike Timlin looks healthy, but the 41 year old cannot pitch two days in a row, cannot pitch to more than a few batters, and really doesn't look sharp anymore.
The Sox bullpen might get some help when and if Lester is ready to pitch. This will shift Tavarez in there. Another form of relief for the relief will be if we use Gabbard and Bucholz late in the season out of the bullpen. We do need some additional bullpen depth for the playoffs, particularly with looming question marks over Wakefield and Schilling.
All in all, it's been a very good season thus far. However, we were 50-31 at this point last season, only to go 36-45 to finish the season, missing the playoffs. This team is very good, but is still very vulnerable. We haven't locked up the division, but it is in our hands. We might drop it, if we aren't careful. More importantly, this team still needs work before it will be good enough to make a strong playoff run. That work might come from Pawtucket, it might come through trades, it might come from within. But it has to come, or yet another 50-31 start will be meaningless.