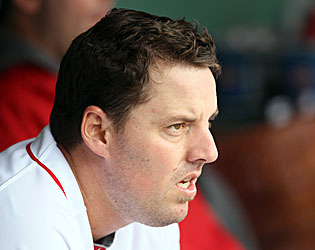 Everyone's been blaming Theo and Tito for the Red Sox' September swoon. They're even blaming pitching coach Curt Young, which is slightly more intelligent since it is pitching that wins and pitching that loses. I know that's hardly an original thought, but with the blame game being played, I feel like all the fault for this stretch of wretched baseball belongs to this team's starting pitchers.
The Red Sox are 29th in Quality Starts (starts of 6+ innings, allowing 3 earned runs or less). 70 Quality Starts in 160 games. Only Baltimore has fewer with 60. The Yankees have 84. The Phillies have 107. And that's too bad, because when the Sox do get a Quality Start, they're nearly unstoppable. They're 54-16 in those 70 games (.771). Without a Quality Start, the Sox are 35-55 (.389).
Beckett and Lester have the lion's share of Quality Starts for the Sox. 38 combined. Yet in September, they've only each made one Quality Start. These are the foundations of the Red Sox rotation, and they are having two of the biggest slumps on the team.
One reason the Sox don't have as many Quality Starts as they could is the loss of Buchholz. Buchholz struggled in April, but 6 of his last 9 starts were Quality Starts. The Red Sox were 8-1 in those 9 starts. Losing him has cost the rotation some serious stability.
Losing Daisuke didn't hurt much, to be frank. He only had 2 Quality Starts in 7 chances.
I wasn't that impressed with this rotation at the beginning of the year. It seemed to rely on Beckett being consistent (something his career record has proven that he isn't), Daisuke being both good and healthy (something which is almost as rare as Beckett being consistent), a young Buchholz duplicating an extraordinary season, and John Lackey being the exact opposite of what he's been lately.
Lackey actually got worse, Beckett was great for a time, but now he's slumping (his inconsistency reappearing). Buchholz was doing well then got hurt, Daisuke wasn't doing well then got hurt. And Lester is a good 2 or 3 pitcher and not an Ace.
We all thought we had a better rotation than the Yankees. But we don't. We never did. We mocked them for just having CC Sabathia, but there's no pitcher on the Sox even close to Sabathia. And the Yankees don't have anyone as bad as Lackey.
It's all about pitching. Even with a fantastic offense, if you don't get a good start, you're going to struggle to win. If Beckett or Lester each made just one more Quality Start in September, the Sox could have already clinched. Now, their postseason lives are on the line. And if they don't get Quality Starts in the next two (maybe three) games, then they'll almost surely die.