Last week my picks were 2-5. On the season, I've made 20 picks, and have a record of 7-12-1. So things haven't been going very well. Factor in a 10% vigorish that the loser typically pays in a sports bet, and I'm averaging a -31.5% return on investment with these bets. That means for every $100 I theoretically wager, I'd get back $68.50 and lose $31.50. That's not good.
So I would advise that you look at my picks, and do the opposite.
This is a big weekend in college football. There are three huge conference games that could go a long way to determine BCS berths. #14 Arkansas is at #3 Alabama. #7 Oklahoma State is at #8 Texas A&M. #11 Florida State is at #21 Clemson. And here are my picks:
NC State +7.5 @ Cincinnati
I still have faith in the Wolfpack, and think very little of the Bearcats.
Syracuse -2 vs. Toledo
Why not? If Cuse loses, then I'll still be quite happy.
Boston College -9 vs. UMass
I'm tempted to take UMass on this one, but BC has got to be pissed, their defense should stop anything the Minutemen can muster, and Montel Harris might be back.
Florida State +2.5 @ Clemson
One team coming off a big loss, another coming off a big win. I think FSU is slightly underrated at the moment, and the opposite is true of Clemson. I'm sure Jenn Sterger agrees.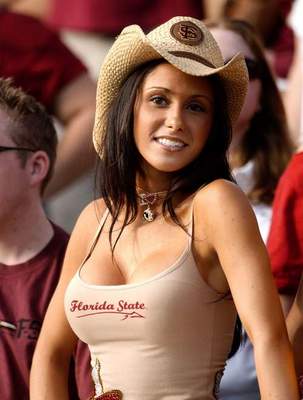 Arkansas +12.5 @ Alabama
In my preseason SEC preview, I picked Arkansas to win the West because they'd match up well with Alabama. When you're wrong most of the time, it's best to stick with your first pick. That way, at the most, you can only be wrong once.
Texas A&M -3.5 vs. Oklahoma State
OSU is good, A&M is better, and playing at one of the best home stadiums in the game.
LSU -5.5 @ West Virginia
I have a feeling like LSU might get worn down with their tough schedule. But until it happens, I can't not pick them.
USC +2.5 @ Arizona State
Why not?