Well things are getting interesting, aren't they?
MONTREAL 3, PITTSBURGH 2 (series tied 2-2)
Crosby and Malkin have combined for 1 goal and 4 assists in this series. Pittsburgh needs more than that. But perhaps Jaroslav Halak deserves credit for that. Since his shaky Game 1, he's only allowed 4 goals, stopping 94 of 98 shots (.959 SV%). There's nothing scarier than a Montreal team propelled by a hot goalie.
DETROIT 7, SAN JOSE 1 (Sharks lead 3-1)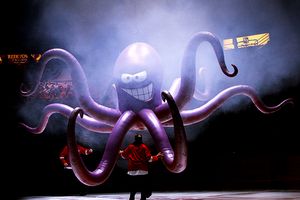 If Detroit goes down, it won't be without a fight. Johan Franzen scored a natural hat-trick (3 goals in a row, without anyone else scoring in between them) in the 1st period. He also had an assist in that period, setting a Stanley Cup record for most points in a period. He scored again in the 3rd, and had an assist in the 2nd. So that's 4 goals and 2 assists. And yes, he was awarded the #1 Star.
Tonight's games:
7pm: Boston @ Philadelphia - Versus (Bruins lead series 3-0)
9:30pm: Chicago @ Vancouver - Versus (Blackhawks lead series 2-1)
Saturday's games:
7pm: Montreal @ Pittsburgh - Versus (Series tied 2-2)
10pm: Detroit @ San Jose - Versus (Sharks lead series 3-1)
Sunday's game:
8pm: Vancouver @ Chicago - Versus