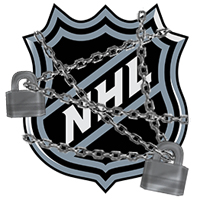 Just some token news and lack of good news from the NHL. Rumor has it that if the League and NHLPA can't agree to a CBA by Thursday, the Winter Classic will be cancelled. At the very least, HBO's
24/7
, which is a nice little promotional tool for the NHL, won't be made leading up to the Classic.
In suburban Chicago, 12,000 fans gathered to watch a team comprised of Blackhawk players compete against a team of NHLers from other teams, including Jordan Staal and Bobby Ryan. Patrick Kane scored 5 goals for the Blackhawks team, but they lost 16-15 in a shootout. Proceeds from the game went to charity.
A group of Montreal Canadiens are fighting the lockout in a Quebec court. I don't know much about the case, or the Canadian legal system, nor do I care to learn. It's just a shame that we're seeing the abbreviation "vs." used in a court-room setting and not to describe an actual game.
Philadelphia Flyer Wayne Simmonds, who is black, was the target of racial chants when the Czech team he plays for faced the Chomutov Pirates. People don't realize how racist some Europeans are. Simmonds had a banana thrown at him in London, Ontario last year. People don't realize how racist some Canadians are.
And Tim Thomas sits in Colorado and smiles at all of this.