On February 20th, 1992, the Simpsons episode
Homer at the Bat
first aired. It featured 9 Major League stars as ringers on Mister Burns' softball team. The lineup:
C Mike Scioscia
1B Don Mattingly
2B Steve Sax
3B Wade Boggs
SS Ozzie Smith
LF Jose Canseco
CF Ken Griffey Jr.
RF Daryl Strawberry
P Roger Clemens
Looking at this lineup, there is 1 player still active in the Majors, 2 have moved on to coaching, 2 have been inducted into the Hall of Fame, 6 played for the Yankees, 2 are known cheaters, and 1 is a cokehead.
Mike Scioscia is one of the most respected managers in baseball, if a bit overrated. The Angels have him under contract until 2018. He won the first World Series in Angels history in 2002.
After his playing days, Mattingly was an instructor at Yankee spring training for 7 years. He was named hitting coach in 2003, then bench coach for the 2007 season. He was a frontrunner for the Yankees' opening after they disrespected Joe Torre, but Joe Girardi got the job. Smart move, New York. He's currently the hitting coach for Torre's Dodgers.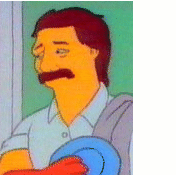 Steve Sax has been busy since leaving baseball in 1994. He was a part owner of a nightclub, he owns a martial arts studio, he's currently writing a book on athletes and finances, and he's a financial consultant working for RBC. He's also been an analyst on TV, and made a guest appearance on
Sabrina the Teenage Witch
. He might be the only person who has been on
Sabrina
,
The Simpsons
, and
Who's the Boss?
After the 1992 season, Boggs left the Red Sox for the Yankees. In 1996, he had a walk-off bases-loaded walk to win Game 4 of the World Series. The Yankees, of course, won the whole thing that year. Boggs finished his career with the Devil Rays, recording his 3,000th hit in 1999. He is the ONLY member of the 3,000 hit club to record #3,000 via the homerun. Odd since only 137 of his 3,010 (4.55%) career hits were homers.
Ozzie Smith was elected to the Hall of Fame in 2002, with a career fielding percentage of .978. He opened a restaurant in St. Louis, as well as a youth sports academy. He once played The Wizard in an opera production of
The Wizard of Oz
. In '05, his son Nikko made the final 10 on
American Idol
.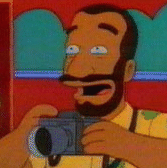 Now we get into the bastard players. Jose Canseco defines the word shame. An admitted steroid user, he used his years of cheating as a springboard to rat out every other cheater for his own personal gain. He's a reality TV hobo, and amateur boxer/punching bag.
Ken Griffey Jr.'s numbers will probably be tainted by no fault of his own. There's no suspiscion around Griffey, but his 611 homeruns couldn't have come at a worse time. He's the only player on the team still active, recently signing a deal with the Mariners. And I don't feel bad for him. He's a millionaire, and has like 6 video games named after him.
DDDDDDaaaaaaaaaaaaarrrrrrrrrryyyyyyyyyyyyyylllllllllll Strawberry. Alcohol. Cocaine. One of the biggest wastes of talent in the latter half of the 20th century. He had 280 career HRs before this episode first aired. He hit 55 after. I guess Mr. Burns pinch-hitting for him in the 9th really got to him. His memoirs are being published in April. The book cover should be a mirror, so you can do lines on it.
Roger Clemens. What a scummy cunt. Roger's career eventually stalled after the episode. He was 40-38 in his last 4 years in Boston. Then suddenly, somehow, as if by magic, as if some magical drug somehow found its way into his bloodstream, he was back to winning Cy Young Awards. He was 41-13 in two years for the Blue Jays, capturing two Cy Youngs. He had a bullshit 20-3 season in '01, receiving the best run support in recent memory, and now it turns out that season really was bullshit. He is the King of Douche.
So that's where the Springfield 9 are these days. Scioscia and Mattingly are part of the Mr. Burns coaching tree. Sax is advising athletes how to invest their money. Boggs and Smith are in Cooperstown. Griffey's in Seattle... again. Canseco's probably an understudy on some reality TV set. Strawberry's in a constant state of regret, at least he should be. And Clemens is in a self-dug hole, quickly filling with his own bullshit.