I love how much the media giggles at KG's jokes. Such jock sniffers.
Anyway, I know this was a passing remark. But of all the cities to accuse of having "fair-weathered" fans, Philadelphia would be at the bottom of my list.
Just as a warning to any Philadelphia fans reading this, prepare for some backhanded compliments as I compliment your loyalty while simultaneously insulting your teams.
Before 1980, Philadelphia fans were enduring a World Series drought that was longer than the Cubs'. They hadn't won a World Series in their existence (established in 1883) until 1980. 97 years of futility. Even now, the Phillies have the same number of rings as the Cubs. The Phillies were the first team to rack up 10,000 losses. And even though they've had success recently, they're still 1,056 games under .500 as a franchise.
Yet Philly fans were still there, still hurling AAs at JD Drew when he was a Cardinal. If the movie
Rookie of the Year
had been set in Philly, the kid would have been discovered at the Vet because he could throw a battery from the outfield to home plate without it bouncing.
Then we have the Eagles. The little brother of the NFC East. Dallas has 5 Super Bowls, The Giants have 4 (plus 4 pre-SB titles), the Redskins have 3 (5 total titles), and the Eagles have 0. They do have 3 pre-Super Bowl titles, but who cares? Their last championship was won in 1960.
The Eagles have had their share of good teams. They've been consistent contenders. But have also been consistent chokers. They're run of three straight NFC Championship losses is legendary. Then they actually make the Super Bowl and Donovan McNabb gets indigestion.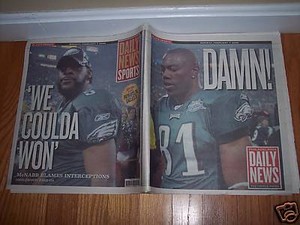 Yet Eagle fans are among the most loyal (and they won't hesitate to remind you of that) fanbases in the NFL. Just look at the wide variety of jerseys worn at an Eagles game. The throwbacks seen aren't new editions of old jerseys. The jerseys are vintage. These fans have been obsessing over their pathetic team for years.
Then there's the Flyers, who haven't won the Cup since 1975. The 76ers have won 2 titles in Philly, the most recent in 1983.
Philadelphia has seen 14 major championships. 5 of those were won by the Philadelphia Athletics, so I'm not sure those count. The 9 titles won by Philly's current teams took 300 total seasons to accomplish. And Philly teams have only 1 title since 1983 (1 title in over 110 seasons).
Yet Philly fans adamantly support their teams. I think it's really unfair of Kevin Garnett to call Philly's fans "fair-weathered." They've endured some shitty weather in Philly and stayed in their seats to cheer/boo their teams.
And it's not like we don't have fair-weather fans up here in Boston. Garnett doesn't know that, of course, because the weather's been great in Boston since his arrival in 2007.