My picks were 2-1 on Saturday, and although I'm tempted to quit while I'm ahead, I've got more picks. These are some weekday bowls starting tonight, and there are actually some very good teams involved. TCU plays tomorrow night, and Boise State plays Thursday night. That's the big dropoff from BCS Bowls for these conferences. Try to convince me that the BCS doesn't violate some sort of anti-trust laws. Anyway, here are the picks (all times are Eastern):
Tonight - 8:00 PM - ESPN
Beef 'O' Brady's Bowl - St. Petersburg, FL
Florida International Golden Panthers (-3.5) vs. Marshall Thundering Herd
They might need the biggest marquee in history to fit all those words onto one sign. FIU is one of the few teams headed north to their bowl game. The Golden Panthers were 8-4, and even beat Louisville. Meanwhile, Marshall barely was bowl eligible. The Herd also beat Louisville. Man, Louisville sucks. Marshall will be happy to make the trip and lose with little fight.
FIU -3.5
Wednesday - 8:00 PM - ESPN
San Diego County Credit Union Poinsettia Bowl - San Diego, CA
#18 TCU Horned Frogs (-9.5) vs. Louisiana Tech Bulldogs
Speaking of lengthy titles... TCU won 10 games, and only lost to Baylor (50-48) and SMU (in OT). 9th best offense in the country, respectable 30th in defense. Meanwhile, LaTech has mounted a 7 game win streak after starting 1-4. Maybe ESPN should be drooling all over their quarterback just like they did with Tebow. The Bulldogs will put up a fight, but TCU is legitimately good.
TCU -9.5
Thursday - 8:00 PM - ESPN
Maaco Bowl - Las Vegas, NV
Arizona State Sun Devils vs. #7 Boise State Broncos (-14)
Can you understand why BSU wanted to join the Big East so badly? They go 11-1, finish 2nd in their conference to TCU, and they win up playing before Christmas. ASU can score, and their passing offense is 11th best in the country. They have a good QB and a good RB. This game will be interesting until halftime when BSU pulls away.
Boise State -14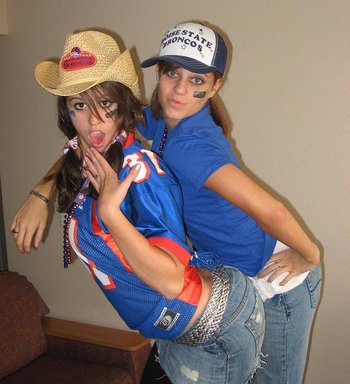 We'll have more bowl previews later this week.