Both the Cardinals and the umpires had a rough 1st inning. At least the umpires were able to confer and undo their mistake. Unlike the umps, the Cards didn't come together as a team and help each other out. They kept making mistakes. The worst was Adam Wainwright calling for an infield pop-up, then just standing there as the ball fell between he and his catcher.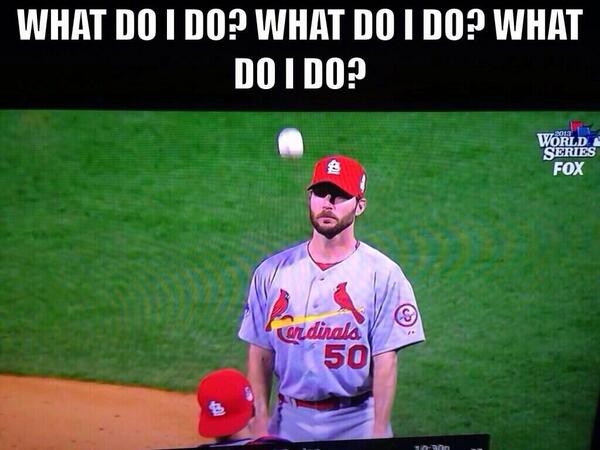 The Red Sox took advantage of these mistakes, as they've done throughout the playoffs. Mike Napoli's bases clearing double took advantage of Pete Kozma's fielding error in the 1st. Dustin Pedroia and David Ortiz knocked in runs in the 2nd after Wainwright let that ball drop.
Wainwright's pitching was worse than his fielding. If not for his right-fielders making two great catches, he might have given up 9 runs. Carlos Beltran robbed David Ortiz of a Grand Slam in the 2nd, and Shane Robinson took away extra bases (at least a triple, maybe more) from Dustin Pedroia in the 5th. Even when the Sox made outs they hit the ball hard off Wainwright.
Ortiz and Pedroia combined for 4 hits, 4 RBI, and 4 runs. If not for those catches by St. Louis right-fielders, they would have combined for 6 hits, and perhaps 8 RBI and 6 runs.
Jon Lester pitched brilliantly. He set the tone early, allowing only one baserunner in the first three innings and striking out 4. In the middle innings he had to work through some jams. In the 4th he escaped a bases-loaded, 1 out situation by inducing a double-play ball. A double play which he initiated, 1-2-3. He finished the game with 8 strikeouts and only walked 1 Cardinal, allowing 5 hits and 0 runs in his 7.2 innings.
Lester has been Ace-like in the postseason, starting each series with a topnotch performance. In ALDS Game 1 he went 7.2 and allowed 2 runs, striking out 7. In ALCS Game 1 he lost 1-0 but pitched well, 6.1 innings and only 1 run allowed. And now this start in the World Series opener. He's 3-1 in the playoffs with a 1.67 ERA. If baseball had a Conn Smythe type of trophy for postseason MVP, he'd be the leading candidate.
The Red Sox have won 9 straight World Series games, and haven't lost a game in the Fall Classic since 1986.
John Lackey takes the mound Thursday night to face rookie Michael Wacha. Wacha only started 9 games this year. He's been lights-out in the playoffs, with a 3-0 record, a 0.43 ERA in 21 innings, striking out 22, allowing only 8 hits, and only walking 4. So to say he's doing well is something of an understatement. The Red Sox need Lackey to continue to perform at the high level he has pitched in the postseason.
Photo Credit:
AP Photo/Charles Krupa