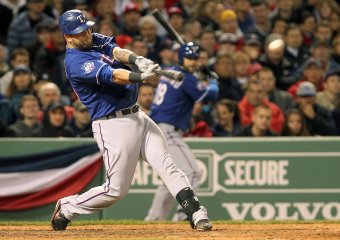 According to sources, the Red Sox and Mike Napoli have agreed to a 3 year deal worth $39 million. Napoli would primarily play first-base for the Sox.
I'm not a huge fan of Mike Napoli. A few weeks ago when the Sox were rumored to be pursuing Napoli
I wrote about
the price of the deal being everything. Napoli isn't worth big money, nor is he worth a long-term deal.
I can live with a 3 year contract at $39 million. That's less money per year than David Ortiz gets. And Napoli can play the field (at multiple positions), and probably won't take 20 weeks to recover from minor injuries. He turned 31 this past October, so he has at least 3 years left in the tank, especially if he plays mostly first-base.
Napoli has a career SLG of .507 and a career OBP of .356. He's shown the capability of being a .600 SLG and .400 OBP kind of guy. But his seasonal performances fluctuate significantly.
He does hit well at Fenway Park. He's slugged .710 in his career at Fenway, and hits a homerun every 10.4 plate appearances. Hopefully that's due to the ballpark more than it's due to the pitchers he's been facing.
This acquisition doesn't propel the Red Sox into World Series contention, but it does fill the gap at first-base, and gives the Sox some flexibility at the catcher position. And it does so without committing a large amount of money for a long time. This is a decent contract for a decent player. One thing the Sox lacked in 2011 and 2012 was decency, on the field and off it.
This isn't a tremendous leap forward, but it's a step in the right direction. Here's what the potential Sox lineup looks like right now.
1. CF Ellsbury
2. 2B Pedroia
3. 1B Napoli
4. DH Ortiz
5. 3B Middlebrooks
6. C Saltalamacchia
7. RF Nava
8. LF Gomes
9. SS Iglesias
It's getting better. Imagine how much Josh Hamilton would beef up the middle of that order. And how Cody Ross would anchor the bottom.