Be advised, this post includes pictures of scantily clad women showing school pride, among other things.
Last week my picks were 7-7, bringing my season total to 40-34-1. Here are my selections for this weekend's games:
Louisville -3.5 vs. Cincinnati
Tight race atop the Big East. Nobody cares.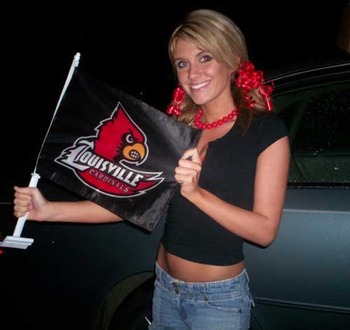 Texas -19 @ Kansas
Longhorns should roll in Lawrence.
South Carolina -13.5 @ Tennessee
Cocks should repeatedly violate the Vols.
Arkansas -6 vs. Ole Miss
Home field advantage.
North Carolina -7.5 vs. NC State
I finally believe in the Tar Heels. So they'll probably lose.
Maryland +2 @ Boston College
BC hasn't beaten an FBS team.
Duke +27.5 @ Florida State
Has the looks of a scare game, FSU wins but doesn't cover.
Texas Tech +7.5 @ Kansas State
Tech's only loss was to Oklahoma. And they crushed WVU just like K-State did.
Oklahoma State -7 vs. TCU
TCU will learn how hard the road is in the Big XII.
Wisconsin -6 vs. Michigan State
Tough to win in Madison.
USC -6.5 @ Arizona
Why not?
Georgia +7 vs. Florida (Jacksonville)
Yes. Upset in Jacksonville.
Ohio State +1 @ Penn State
Rare time I'll be rooting for OSU, so they'll likely lose.
Vanderbilt -32.5 vs. UMass
The Minutemen are struggling to adjust to FBS.
Syracuse +2.5 @ South Florida
Vomit.
Michigan +2 @ Nebraska
Interesting divisional races in Big Ten.
Oklahoma -11.5 vs. Notre Dame
When they win, OU tends to win by a decent margin.
Mississippi State +24 @ Alabama
The Bulldogs are a legit threat to win the SEC West and Bama might be thinking a week ahead to LSU. Could be close.
Oregon State -3 @ Washington
I like Beavers.