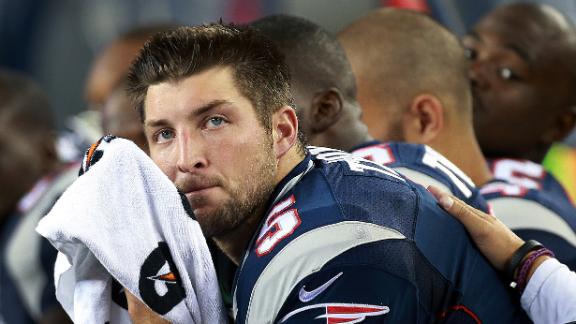 The Tim Tebow era was over in New England before it began. There just wasn't any room on the Patriots' roster for a third pass-thrower who couldn't throw passes.
Speaking of leaps of faith, how about all those people who bought Tebow gear? All those t-shirts and jerseys will soon be half-price at the Pro Shop. People would have been wiser to have waited to see if he would make the team before they committed their cash. If cut, you can get the shirt at a bargain. If not, you can still deck yourself out in the jersey of a 3rd string QB.
I suppose being a Tebow fan does require tremendous faith. More faith than religion. Religious faith is the belief in something despite the absence of proof. Tebow faith is belief in something despite overwhelming evidence that it is incorrect. It's like having faith that the earth is flat. Or believing that the Theory of Evolution is wrong.
I don't mean to bash Tebow. He seems like a nice guy in a League populated with jerks, scumbags, and the occasional murderous sociopath. He just doesn't fit in the NFL, not as a person, not as a player.
When the Pats signed him I thought he could be a decent #2/#3 quarterback. After all, he's won games, even won a playoff game. You can do worse with your #3 QB. And I don't trust Ryan Mallett. Mallett is reckless. He just chucks the ball. He's Brett Favre, Jr. Mallett has a great arm, but Tebow seems to know how to win games.
I know now that Tebow is less likely to find work as a backup quarterback than he is to find it as a starter. Because as a backup putting him on the field requires the entire offense to change. He can't come into a game for an offensive series while trainers look at Brady. He can't play a quarter or a game if Brady gets a minor injury. Not without the offense changing everything about how it plays.
A backup QB is like a spare tire in the trunk of your car. A typical spare requires that you drive a little slower than usual. As a spare, Tebow is more like an oversized monster truck tire. The car won't function unless you change the 3 other tires on your car.
There are enough QB openings around the League for Tebow to find a job. And I wish him well. However, he seems to be falling victim to what happens to some Heisman winners. Sometimes what makes them great in college just doesn't fit in in the NFL game. See: Eric Crouch, Troy Smith, Matt Leinart, Doug Flutie, et cetera.