The Big XII remains at 12 teams in 2010. Nebraska will join the BigTen in 2011, and Colorado will join the Pac-10 in 2012. The offseason nearly saw the death of this central states Conference, as Texas and Oklahoma were courted by the SEC and Pac-10. But now it's football time again. And the traditional powerhouses will reign supreme in the conference, which has definitive upper, middle, and lower classes of teams. There are three Big XII teams ranked in the pre-season top 10, but the 4th highest ranked team is 37th nationally.
1. OKLAHOMA SOONERS
Texas is the popular pick to win the Big XII South, and then likely the Big XII title. But Oklahoma is looking good this year. Sophomore QB Landry Jones threw for 3,198 yards last season, with 26 TDs and 14 INTs. If he can stay healthy, he'll improve on that. RB DeMarco Murray also returns, although there's little depth at receiver. Only 5 defensive starters return, but Oklahoma's done a good job of reloading with talented players. The Big XII South winner will be determined in the Red River Shootout, with OU victorious.
Prediction: 11-2, Big XII South Champs, Big XII Champs
Key Games:
9/11 vs. Florida State
9/25 @ Cincinnati
10/2 vs. Texas (in Dallas)
10/23 @ Missouri
11/27 @ Oklahoma State
2. TEXAS LONGHORNS
No more Colt McCoy in Austin. Garrett Gilbert is the heir apparent, and was baptized by fire against Bama in the title game. So when the Horns start off at Rice, it should seem like a pee wee game for Gilbert. That being said, UT only returns 4 offensive starters, and they'll likely simplify their schemes, going with hard runs and a back-to-basics passing attack. They'll rely on their defense, which returns 6 starters, mostly in an excellent secondary, which is a must have in the Big XII. They'll excel, but lose to OU in the RRS. They'll likely still make a BCS Bowl.
Prediction: 11-1, 2nd in Big XII South
Key Games:
10/2 vs. Oklahoma (in Dallas)
10/16 @ Nebraska
11/13 vs. Oklahoma State
11/25 vs. Texas A&M
3. NEBRASKA CORNHUSKERS
The Blackshirts are back. NU will return with a mostly intact offense, with some talent at the skill positions. However, that unit needs to improve their execution as the Huskers were 75th in scoring offense last year, and 99th in yardage. The defense lost Suh, but they're still deep and ferocious, especially up front. In a Conference loaded with powerful offenses, a shutdown defense can separate a team from the pack. Nebraska held 7 opponents to single digits last year. That's half of their games. They also have something every defensively minded team needs: an excellent, reliable, and accurate kicker. An easy non-conference schedule also helps.
Prediction: 11-2, Big XII North Champs
Key Games:
10/16 vs. Texas
10/30 vs. Missouri
4. MISSOURI TIGERS
Mizzou is a good darkhorse candidate in the Big XII North. Big Blaine Gibbert returns after a 3,593 yard, 24 TD, 9 INT season that saw him complete 59% of his passes. 4/5 of the offensive line also returns. However the Tigers need to fill some holes at WR. The defense isn't bad either. DE Aldon Smith tallied 11.5 sacks as a freshman. Although their depth on the line is worrisome. They're deep at linebacker, but have some forgettable DBs. A soft schedule to start their season will help them tie up all their loose ends.
Prediction: 10-2, 2nd in Big XII North
Key Games:
10/23 vs. Oklahoma
10/30 @ Nebraska
The remainder of the teams are listed alphabetically...
BAYLOR BEARS
QB Robert Griffin returns from an ACL injury. He amassed 2,934 total yards in '08, along with 28 TDs. The offense should be solid, but the defense will be dreadful. The Bears allowed 405.6 yards a game last year. Part of that is from playing in the Big XII, but most of it is because that unit is simply awful. They'll benefit from a soft schedule with games against Sam Houston State, Buffalo, and Rice, but they still won't attain bowl eligibility.
Prediction: 4-8
COLORADO BUFFALOES
I don't know if the Big XII will be happy to lose CU or not. On one hand, they lose a struggling program. On the other hand, they all lose a near guaranteed win. The Buffs have an experienced offense, but it wasn't a very good one. They allowed 44 sacks last season. The QB situation is a toss-up, they have no depth at RB, but they do have some good receivers. Their special teams units might be among the worst in the country. Apart from two very good CBs, their defense is air.
Prediction: 2-10
IOWA STATE CYCLONES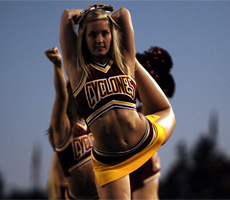 ISU is looking to build on a surprisingly good 7-6 season last year. They return 8 offensive starters, including RB Alexander Robson, who compiled 1,456 yards from scrimmage in '09. They're also very deep at WR. They have an inexperienced defense, but their secondary is very good. A tough schedule will keep them from winning more than 7 games, but they won't be a pushover. They have to play at Iowa, at Oklahoma, at Texas, and also host Nebraska.
Prediction: 6-6
KANSAS JAYHAWKS
The departure of QB Todd Reesing has left a vacuum at the position. There'll be a competition for the spot with no clear favorite going into the season. The Jayhawks have astounding depth at CB (8 players vying for 2 spots), some good defensive ends, but they're weak at linebacker. Their offense is poor, and their O-line is supbar. They ended 2009 with 7 straight losses, and they won't improve much in 2010.
Prediction: 6-6
KANSAS STATE WILDCATS
RB Daniel Thomas ran for 1,265 yards and 11 scores last year. He'll spearhead an offense that boasts 4 returning O-line starters. The passing game, however, is a big question mark. K-State also lost some key playmakers on defense. They have a pair of excellent safeties that will need to carry the D.
Prediction: 5-7
OKLAHOMA STATE COWBOYS
RB Kendall Hunter returns to Stillwater after missing 2010 due to injury. He ran for 1,553 yards and 16 TDs in '08. The Cowboys have an inexperienced O-line, only returning 1 starter. They were 31st in scoring defense last season, but only bring back 3 from that unit. This will be a rebuilding year for OSU, and the potent offenses of the Big XII will exploit that.
Prediction: 8-4
TEXAS A&M AGGIES
A&M is once again relevant. They feature an explosive and highly skilled offense. They were 5th in the country in yards and 19th in scoring last year. Although their O-line lost 3 starters. Their defense, however, is atrocious. They return 10 starters on D, so they'll likely be better. They were 105th in scoring defense, 90th against the run, 106th against the pass, 105th in total yards. They yielded 49 points to Texas, and 65 to OU.
Prediction: 8-4
TEXAS TECH RED RAIDERS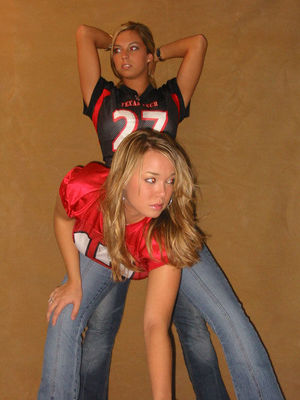 The Red Raiders are a typical Big XII team. They're very talented and very deep on offense, with excellent skill position players. But their defense is susceptible. TTU was already weak on defense last year, and now they need to reload again, especially up front. They'll score points, but they'll get scored on by the big boys of the Conference.
Prediction: 8-4