It's time for the European Championship of soccer. I think I like this tournament a little bit more than the World Cup. Most of the best teams in the world are in it, and you don't have to bother with separating the wheat from the chaff. There are also some really interesting and intense rivalries that this tournament is more likely to see than the World Cup. England/Germany, Germany/Netherlands, Spain/Portugal, France/Italy, et cetera.
This year, the tournament is being hosted by Poland and the Ukraine. There are four teams in four groups. They'll play a round-robin round, with 3 points awarded for a win, 1 for a draw. The top two teams advance to the elimination stages. Here are the groups:
Group A:
Czech Republic
Greece
Poland
Russia
This is the Eastern bloc group. Greece and Russia are the highest ranked teams, according to FIFA. But the Czech Republic side isn't bad. And Poland, being a host country, is sure to be energized and also receive benefits from a few calls. I think Greece's political problems might wind up distracting their team. And Poland will take advantage. Russia wins the group with Poland squeaking through in second place.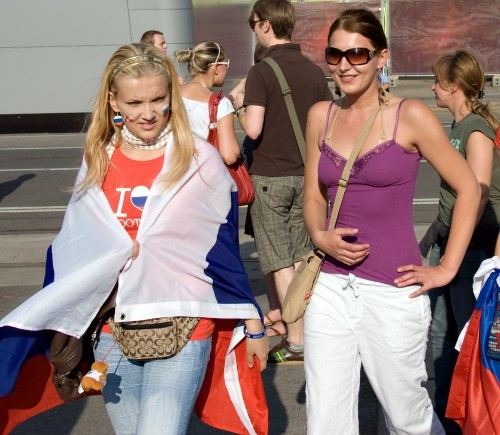 Group B:
Denmark
Germany
Netherlands
Portugal
This is the "Group of Death" for the tournament. Germany is ranked 3rd in the world, the Netherlands are ranked 4th, Denmark is 9th, Portugal is 10th. That's in the world, not just Europe. I can't not pick the Germans to win this group. They're very talented this year, and they always seem to play above their talent-level anyway. And the Dutch have so many guys that can make plays and score, it's hard to pick against them. So Germany wins this group, the Dutch come in second.
Group C:
Spain
Italy
Ireland
Croatia
Ireland is a darkhorse to advance from this group. If Spain and Italy draw each other, then one of them draws with Ireland, and maybe Croatia upsets Italy (who tend to occasionally show up to summer tournaments in lackluster form), Ireland could advance. It's possible, but unlikely. What's more likely is that the #1 team in the world (Spain) dominates this group. And Italy dominates Ireland and Croatia to finish 2nd.
Group D:
Ukraine
Sweden
France
England
This is a tough group. There's a host country, then England (#6 team in the world), France (#14), and Sweden (#17). France and England both have a history of disappointing in big tournaments. So when two chokers face each other, what happens? A draw. I don't know if the Ukraine is good enough to capitalize on some friendly officiating, but Sweden could sneak into the elimination round from this group. I think England wins the group, Sweden finishes 2nd.
Notice how only two of those girls are showing their teeth? That's England for you.
If my predictions come true, then here would be the quarterfinals:
Russia vs. Netherlands
The Dutch would roll in this one. That's a feeble joke about rolling joints.
Spain vs. Sweden
This is as big of a mismatch in soccer as it is in hockey. Spain is too good to be stopped by the Swedes.
Germany vs. Poland
The best Polish born player in the world is a German citizen named Miroslav Klose. Germany wins.
England vs. Italy
England chokes on ravioli, Italy advances.
Then the semifinals:
Spain vs. Netherlands
The Dutch upset the Spanish with some quick strike goals.
Germany vs. Italy
The Germans outwork the Italians and win in extra-time or a penalty shootout.
Then the finals:
Germany vs. Netherlands
My heart is with Germany, but I have a feeling that the Netherlands will win it all.
The tournament starts today on ESPN. I highly recommend checking it out if you get a chance. This is world class soccer, something we don't get to see much of in the US.