Roberto Luongo and Tim Thomas are now reportedly teammates. In the summer of 2013 I
wrote a post
imagining the hilarious, reality-TV style drama that would ensue if the Vancouver Canucks signed Thomas, making he and Luongo teammates. Now Luongo will be taking his whining and choking to South Beach.
Florida is where Luongo wanted to go. He used to play there, still has a house there, and who wouldn't want to spend the winter in Florida?
It also seems like the perfect place for him to avoid pressure. He's going from a hockey obsessed market to southern Florida, where they don't even know they have a team. He's going from a franchise that expects to be in contention for Stanley Cups, to a club that's happy just to qualify for the playoffs. The less pressure there is, the better Luongo plays.
Here was how his unofficial/unconfirmed/but-everyone-knows-it's-him Twitter account announced the news Tuesday afternoon: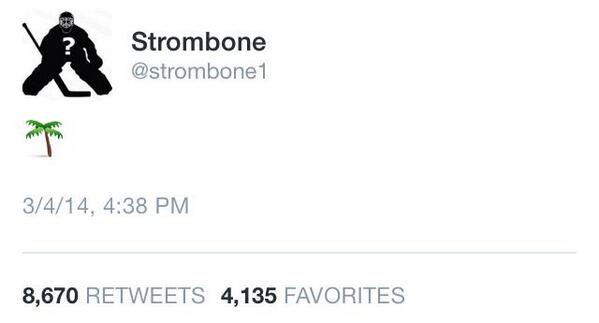 The move makes sense for Vancouver. They're reportedly getting goalie prospect Jacob Markstrom in return. They'll shed themselves of most of Luongo's salary cap hit, and all of his drama.
Florida gets an experienced quality goalie. I love Tim Thomas but I think his career as a starter is coming to a close. Luongo is 5 years younger. In the games I've seen this year, Thomas has been sluggish, and easily rattled. Maybe in a backup role Thomas can maintain his quickness, and get less frustrated.
For Bruins fans this is great. Bobby Lu is now in the same division as the B's.
For the record, Luongo did apologize for his criticisms of Thomas after the 2011 Cup Finals. As long as Luongo sticks to Twitter and Thomas to Facebook, things should remain professional in the Florida Panthers locker room. And if two goalies clash, and there's no fans around to care about it, does it make a sound?