South American teams remain undefeated, and some powerhouse European sides finally showed up.
Portugal 7, North Korea 0
This was a 1-0 game at halftime. And Portugal scored 3 in the last 10 minutes. But don't get on them for running up the score. Goal differential is a tie-breaker, and the Portuguese have to play Brazil next. They have a 9 goal edge on Ivory Coast in the goal differential department and may need it, as the IC take on North Korea next.
Chile 1, Switzerland 0
The Chileans have been a nice surprise. They clinch advancement with a tie against Spain, or if Switzerland can't beat Honduras. They can also clinch on goal differential, which is +2.
Spain 2, Honduras 0
The Spanish came alive today. David Villa scored twice and was a missed penalty shy of a hat-trick.
So we're down to the final round of group play. That means games will be played simultaneously, and we'll be treated to 4 matches a game. Here's a quick shakedown of the various groups:
Group A (games played Tuesday):
Mexico and Uruguay can each advance with a tie, and they play each other, so they'll probably tie. France and South Africa each need to win and get help, and win by a few goals to beat the Mexicans or Uruguayans in goal differential. Mexico and Uruguay should advance.
Group B (Tuesday):
Argentina leads and can clinch winning the group with a tie or a win. South Korea and Greece each need to do better than the other (example: if Greece ties, SK advances with a win. Or if Greece wins by 2, SK can advance with a win by 3). South Korea faces Nigeria, Greece faces Argentina. Argentina should win, and South Korea should finish 2nd.
Group C (Wednesday):
Slovenia can advance with a tie against England, or if USA doesn't beat Algeria. All four teams can finish in any of the four spots. I think England wakes up and beats Slovenia, and the US beats Algeria, and both Anglophone nations advance.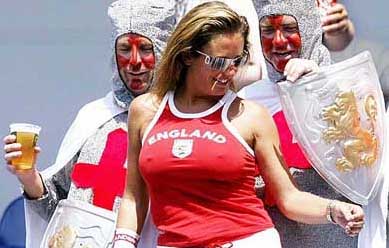 Group D (Wednesday):
Germany essentially needs to beat Ghana. In fact, everyone needs to play for a win in order to advance. Germany's +3 goal differential will probably propel them into the Round of 16, along with Serbia.
Group E (Thursday):
The Netherlands are through no matter what. Cameroon is out no matter what. They play each other. Denmark and Japan play each other for the 2nd spot. Japan advances with a tie thanks to goal differential. But I think they'll beat the Japanese and it'll be Dutch and Danish from Group E.
Group F (Thursday):
Paraguay can advance with a tie or a win against New Zealand, who will probably still be hungover from their big draw against Italy. The Italians should be able to advance with a tie, so long as New Zealand doesn't tie/win.
Group G (Friday):
Brazil meets Portugal and will win the group with a tie or win. But Brazil is in the Round of 16 no matter what. Portugal also has one foot in, as they clinch advancement with a tie/win, and can only be eliminated if the amount of goals they lose by, plus the amount of goals Ivory Coast beats North Korea by, equal 9 or more. So if Portugal loses by 4, IC has to beat NK by 5.
Group H (Friday):
Chile and Spain sit atop the group, and will meet to determine the winner. Chile advances with a tie, Spain might need a win because the Swiss are playing the uninspired Hondurans. It's ironic because Chile is such an aggressive, offensive minded team, and they'll be playing for a tie. I say Spain and Switzerland advance.
Confused yet? Just a refresher, the first tie-breaker is goal differential, then total goals scored, then head-to-head results, then BCS ranking.