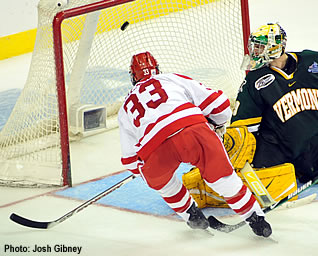 For the 9th time in school history, the BU Terriers are in the NCAA Championship Game. The Beanpot and Hockey East Champs beat Vermont 5-4 in a dramatic back-and-forth struggle last night in Washington. This is the 4th straight year that a team from Boston has made the Finals, but it's BU's first appearance since 1997.
They face 4 seed Miami (Ohio), and are the heavy favorites. If BU wins, it will be their 5th national title. The game is Saturday night at 7.
Even though BU is the top-seeded team in the tournament, and has only lost twice since November, don't count Miami out. The RedHawks beat Denver, Minnesota-Duluth, and Bemidji State to get to the finals. In the regular season, they beat Michigan twice, Notre Dame twice, and did something BU failed to do in two attempts: beat Vermont in Vermont.
It should be a good, physical hockey game. But I think BU prevails 5-2.
Sources:
ESPN.com
Hockey East
Photo Credit:

Josh Gibney