The Red Sox off-season, thus far, has been nothing short of uninspiring. Dull, even. The blatantly planted story about the Red Sox' "full-court press" for Roy Halladay was nothing more than a tease, something to satisfy Sox fans' voracious new appetite for big acquisitions.
The Red Sox made a minor addition yesterday, signing journeyman reliever Scott Atchison. He's 33 years old, a righty, and pitched last year for the Hanshin Tigers of Japan's Central League.
He's spent a limited portion of his 10 year professional career in the Majors. Only 53 MLB appearances to be exact, spread out between the Mariners and Giants in '04, '05, and '07. Don't expect much from him.
Meanwhile, the Yankees seem to be on the verge of signing Curtis Granderson. Granderson hit 30 HRs last year, albeit with a .249 average. I don't think he's that great, and wouldn't want him on the Sox, but my point is that while the Red Sox bolster AAA Pawtucket's bullpen depth, the Yankees are actually doing something.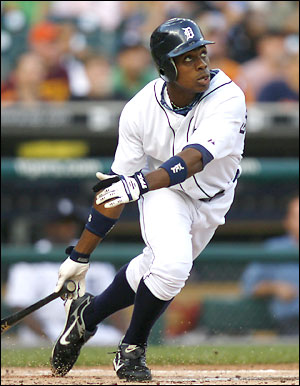 How cheap the Red Sox are being with Jason Bay is inexcusable. Then again, they painted themselves into this financial corner these past few years. We shouldn't give them a free pass for the freedom with which they've spent recently.
$47.8 million of the $122 million the Sox spent last year went to JD Drew, David Ortiz, Mike Lowell, and Daisuke Matsuzaka. That's 39% of a very large payroll, assigned to a DL addict, a PED addict, an aging corner infielder, and a guy who can't pitch past the 5th inning.
I remember the '07 World Series parade, and how we all chanted "Re-Sign Lowell!" We were just as dumb and sentimental as the Sox front office was. And now all of us are paying the price for paying these guys.
I don't mind losing a bidding war to New York. Or at least I don't criticize the Red Sox for not having as much money as the Yankees. But I do mind self-elimination from even trying to win a bidding war, because JD Drew and Daisuke Matsuzaka have $22.3M coming to them.
I sincerely doubt the Sox will do much this off-season. They'll do something, similar to the Scutaro signing, then hype it a la Dan Duquette when he signed Jose Offerman. But the real big winter for the Sox will be the 2010-2011 off-season, when money will be freed up, and the free agent crop will be much healthier (ahem! get Mauer, move Youk to 3B, V-Mart to 1st, ahem!).
Sources:
Boston Globe
WEEI
The Baseball Cube
ESPN