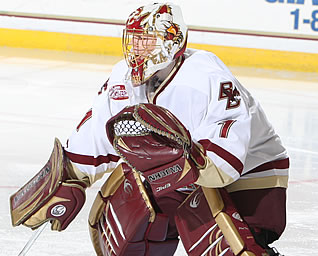 Well I was right about the score (4-3), just wrong about the victor. The BC Eagles rode a 3 goal 2nd period, and sustained a valiant 3rd period comeback bid on their way to the 15th Beanpot title in program history.
BC was simply too fast and too accurate with the puck for BU. It's really that simple. The Eagles' depth, and the fact that they put 5 forwards out on power plays really gives them unbelievable quick-strike capability. That's probably why they're 3rd in goals per game in the country at 3.8. That's why they've scored 22 goals in their last 4 games.
As Jack Parker quips, the Beanpot ushers in "Trophy Season." It kicks off the stretch run of the season with a bang. And in the last two years, it's catapulted two eventual National Champions.
For BU, their season is now a salvage operation. Tied for 5th in Hockey East, and below .500 they have little hope of making the NCAAs (they'd need to win the HE Conference Tournament).
For BC, they're riding a 4 game win streak. They're scoring goals, and getting solid goaltending from John Muse (who won Beanpot MVP, and is now 5-1 in the competition). If they matchup with the right teams, they could be Frozen Four candidates.
This goal was sick: