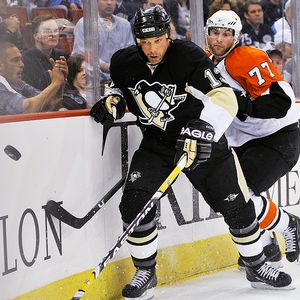 How can you not love Billy Guerin, a.k.a. the Pride of Wilbraham?
"If a guy gets hurt like that with a shot to the head, there's got to be something. Actions happen. Guys don't mean to hurt each other, but they do. You got to pay a price for that... We're all under the same umbrella, whether the guy's on my team and I'm sitting right next to him or he's playing in California. It doesn't matter. We're all playing in the same league. We all want the same safety. We all want to be looked after the same way. I understand he [Cooke] is on my team but, hey, he's in a tough spot."
So what does this say about the inaction by both the Bruins and the NHL? You've got Matt Cooke's teammate of 2 years, who he won a Stanley Cup with, telling the media that he thinks Cooke deserved some sort of discipline.
Unfortunately, Guerin's remarks are about ten times stronger than Claude Julien's in the aftermath of all this. Maybe Guerin should be in the suit behind the Bruins' bench.
Source:
AP via ESPN