The NCAA Hockey Championship trophy should be awarded in February, to the Beanpot winner. Because for the last 3 years, the winner of Boston's hockey championship, has gone on to win the National Championship. BC in '08, BU last year, and now BC in 2010.
The BC Eagles took a 1-0 lead into the 3rd Saturday night against the Wisconsin Badgers. They dominated the period, and finished with a 5-0 victory. Their 2nd title in 3 years, their 3rd of the decade, their 4th all-time, and Jerry York's 4th in what's becoming a legendary career behind the Eagles' bench.
BC's season was reminiscent of their 2007-08 title campaign. They started off in 2nd or 3rd gear, not disappointing, but not stunning. In January, they lost to BU at Fenway Park. They then finished the regular season 11-4-1, 2nd in Hockey East, won the Beanpot, and were ready for the postseason. They were 12-0-1 in their last 13 games, defeating top teams like UNH, Yale, Miami, and ultimately Wisconsin. They scored 67 goals in that 13 game stretch, 5.15 a game.
BC will lose some talent to graduation and to the professional ranks, but they'll return plenty of quality players. Goalie Jon Muse, for example, will go into his senior season with 2 national titles and an 8-0 NCAA record under his belt. If the Blue Jackets don't call him up, Cam Atkinson will go into his junior year. He scored 2 in the National Championship game, and 30. Remember, BC only played 42 games, so that's the equivalent of a 60 goal season in the NHL.
BC's other two big sports - football and basketball - have had recent head coach drama. And both have a reputation for underperforming in big games, and games they should win. But BC Hockey doesn't have that problem. In this decade (2001 to now), they won 4 Beanpots, 4 regular season Hockey East titles, 5 Hockey East tournament titles, made the NCAA tourney 8 times, made the Frozen four 6 times, and won 3 National Championships.
This is far and away the best hockey program in the country.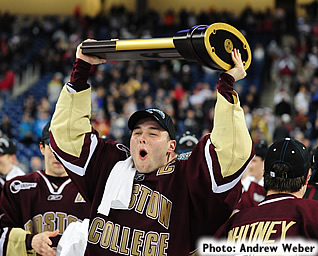 Photo Credits:
Melissa Wade
Andrew Weber