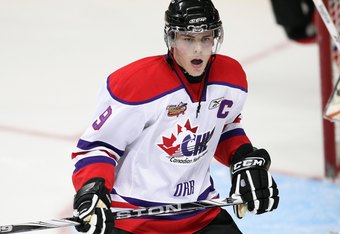 The Bruins will be in Buffalo on New Year's Day. Tyler Seguin should have been there much sooner. The World Junior Championships are underway in Western New York, and the Bruins did not release 18 year old Seguin to play for Team Canada.
Why not? He'd miss 5-6 games. And he's not exactly a key component to the Bruins offense these days. He's in the midst of a 5 game pointless streak, and hasn't scored a goal since December 1st. He's scored twice in his last 25 games. I think the Bruins could survive a few weeks without his contributions.
More importantly, participation in the Juniors tournament could be beneficial to his development as a player. He'd be reminded that he's a great talent. He'd get a chance to play more minutes per game. He'd play alongside other guys at his developmental stage. He'd learn what it's like to play in intense, must-win, pressure-filled games. So when the playoffs come around, he'd already have some vital experience under his belt.
The more intense games, and varied experiences, the better.
And just look at some of the players who have gone through the Juniors tournament. Young up and coming talents like Tyler Myers, and PK Subban. Teammates Brad Marchand, Patrice Bergeron, Michael Ryder, Gregory Campbell, Daniel Paille, Tuukka Rask, David Krejci, Andrew Ference, Mark Recchi, Blake Wheeler, and Mark Stuart. That's 11 Bruins that played in this competition.
Here's some of the frontline talent in the NHL that have played in the World Juniors: James van Riemsdyk, Jonathan Toews, Carey Price, Kris Letang, Brent Seabrook, Jeff Carter, Mike Richards, Derek Roy, Brooks Laich, Dany Healey, Mike Cammalleri, Zach Parise, Joe Thornton, Brad Boyes, and Nicklas Backstrom.
Then there are the superstars who have participated in this event. Evgeni Malkin, Steve Stamkos, the Sedin twins, Alex Ovechkin, and Sidney Crosby, who played in the tournament twice.
So everyone who's anyone has gone through this competition. It's like what the Cape Cod League is to baseball.
But I guess the Bruins feel as though having Seguin play 10 minutes a night as a winger, with barely any power-play time, against the Atlanta Thrashers, is a better way to foster his development.
I disagree.