Some series came to an end, others were extended. The violence has subsided a bit, so now we can enjoy actual hockey.
PANTHERS 3, DEVILS 0 - (Panthers lead series 3-2)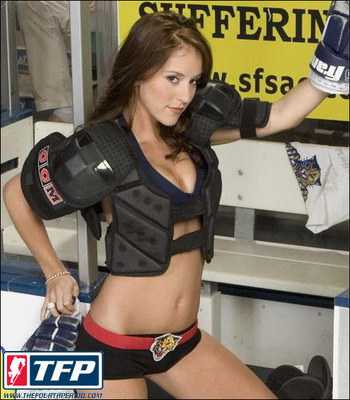 Jose Theodore is back in net for Florida, and it worked out pretty well for the Panthers. He stopped all 30 shots he faced. The Panthers are on the verge of making everyone who was clamoring for changes in the playoff system look like fools.
Game 6 Tuesday night in Jersey.
SENATORS 2, RANGERS 0 - (Senators lead series 3-2)
Jason Spezza is the latest Senator to pick up the slack left by the absence of Daniel Alfredsson. He scored his first and second goals of the series in this game. Oh, and Craig Anderson stopped 41 shots. The Rangers were a favorite to win The Cup, and now they're facing elimination.
Game 6 tonight in Ottawa.
BLUES 3, SHARKS 1 - (Blues win series 4-1)
The Sharks were a sexy upset pick by the experts. The experts forgot that they have Joe Thornton along with goaltending issues. The Blues scored three goals in the 3rd and fully demonstrated how and why they finished the regular season with 109 points.
BLACKHAWKS 2, COYOTES 1 (OT) - (Coyotes lead series 3-2)
All five games in this series have gone into Overtime. That's ridiculous.
Game 6 tonight in Chicago.
FLYERS 5, PENGUINS 1 - (Flyers win series 4-2)
Thank God Pittsburgh is eliminated. The craniums of the remaining playoff teams are much safer thanks to their elimination. And thank God I can stop rooting for the Flyers. Danny Briere and Claude Giroux ran this series. Briere scored 5 times, Giroux scored 6 times. Sidney "Canada's Golden Boy" Crosby had 8 points in this series. And was -3 in this game. Fuck off, Penguins.
KINGS 2, CANUCKS 1 (OT) - (Kings win series 4-2)
Give Vancouver another excuse to tear apart their own city. The Canucks once again choked in the playoffs. This is a common theme with them. They can't just blame their goalie anymore, as Schneider did pretty well for himself. Maybe having a first line consisting of soft Swedes that fold faster than Ikea furniture is the problem. Maybe having guys like Burrows and Lapierre is the problem. Maybe defensemen should play defense. I don't know. I don't care. Goodbye, Vancouver.
A #8 seed beats a #1 seed in 5 games.
Tonight's games:
7:00pm - Rangers @ Senators - NBC Sports - Senators lead 3-2
9:00pm - Coyotes @ Blackhawks - CNBC - Coyotes lead series 3-2