I'm not a gambling man, but if I were, I would bet on every team that's down 3-0 in the Stanley Cup playoffs to win Game 4. Sweeps are rare in the NHL. And that 4th win is truly the hardest to get.
PENGUINS 10, FLYERS 3 - (Flyers lead series 3-1)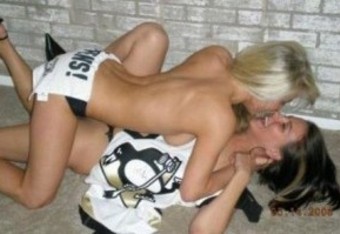 That's the correct score. Jordan Staal had a hat-trick, Malkin had 2 goals and an assist, 13 Penguins registered a point. The 1st period of this game was a game on its own. It was 4-3 at the end of the 1st, and 8 penalties had been handed out. By the end of the 2nd, it was 9-3 Penguins, and 52 penalty minutes had been issued. 100 total minutes were given.
In related news, the Commonwealth of Pennsylvania has decided to split itself into two states, named Sylvania and the Penn Republic (I stole those names from
Futurama
).
Game 5 Friday night in Pittsburgh, Sylvania.
SENATORS 3, RANGERS 2 (OT) - (Series tied 2-2)
With Daniel Alfredsson still out, the Senators needed offensive contributions from guys like Milan Michalek. And some production from their defensemen wouldn't hurt either. Michalek scored his first goal of the series. And Sergei Gonchar scored about 10 minutes later. Kyle Turris scored the game-winner. So this 1 vs. 8 series is now a best of three.
Game 5 Saturday night at MSG.
CANUCKS 3, KINGS 1 - (Kings lead series 3-1)
Cory Schneider is the best goalie on the Vancouver Canucks. End of story. He stopped 43 shots last night. He's only allowed 2 goals in his 2 starts this series. Luongo's career has been marked by results that never matched reputation. Schneider has no reputation, but he's producing results. Both Sedins are back in the lineup (Henrik scored last night) and this series is far from over.
Game 5 Sunday in Vancouver.
Tonight's games:
7:00pm - Panthers @ Devils - NHL Network - Panthers lead 2-1
7:30pm - Bruins @ Capitals - NESN/NBC Sports - Bruins lead 2-1
8:00pm - Coyotes @ Blackhawks - CNBC - Coyotes lead 2-1
10:30pm - Blues @ Sharks - NBC Sports - Blues lead 2-1