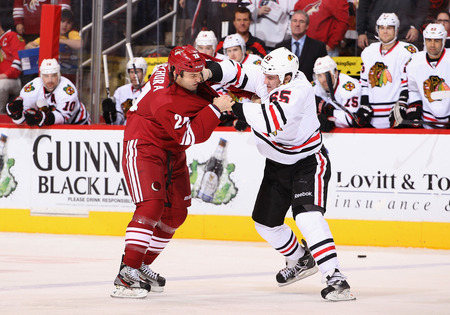 The Coyotes won the Pacific Division, but finished dead last in the NHL in attendance. When will the NHL take this prospering team and move it to a city where people actually give a damn about hockey?
Chicago led the League in attendance, by the way.
The Blackhawks should get Jonathan Toews back from a concussion, but who knows how long it will take him to play to form. He's going from rehab to playoff hockey, so he's going from 0 to 100 in half a second.
The Coyotes have a slight edge in goaltending, as well. The generically named Mike Smith had a breakout year with a 2.21 GAA and a .930 SV%.
Chicago gives up a lot of goals (2nd most goals allowed by a playoff team), so if Smith can slow down the Blackhawks' prolific offense just a little, the Coyotes could take advantage of Chicago's inability to prevent goals, and edge out a few games.
Both these teams have struggling PP units, but Phoenix is adept at killing penalties, and Chicago's PK was 27th in the League. That might be bad enough for Phoenix to score a few man-advantage goals.
I can see Phoenix winning this series in several ways. And the only way I see Chicago winning it is if goalie Corey Crawford plays like he did in last year's playoffs. But he hasn't been able to do that since, well, last year's playoffs.
Coyotes in 6.
Series schedule:
1: Thursday 4/12 - 10:00pm - CHI @ PHX - NBC Sports
2: Saturday 4/14 - 10:00pm - CHI @ PHX - NBC Sports
3: Tuesday 4/17 - 9:00pm - PHX @ CHI - CNBC
4: Thursday 4/19 - 8:00pm - PHX @ CHI - CNBC
5: Saturday 4/21 - 10:00pm - CHI @ PHX - NBC Sports
6: Monday 4/23 - tba - PHX @ CHI - tba
7: Wednesday 4/25 - tba - CHI @ PHX - tba