LA is already in the Conference Finals, and up in the NHL offices in Toronto, they're sacrificing live animals to get New York to the Stanley Cup Finals to face them.
COYOTES 1, PREDATORS 0 - (Coyotes lead series 3-1)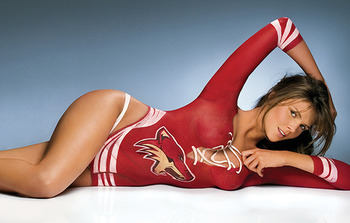 Mike Smith is the second best goalie in the playoffs so far. The skaters in front of him are doing the little things, executing along the boards, not making mistakes. Nashville can still win, but they need their skaters to all do their job, each and every shift. Phoenix isn't making it easy for them to win.
Game 5 tonight in Arizona.
CAPITALS 3, RANGERS 2 - (Series tied 2-2)
A Mike Green power play goal was the difference in these game. Each team has scored only twice with a man advantage in the series. Whoever can get their power play to score more often could win the series.
Game 5 tonight in New York.
KINGS 3, BLUES 1 - (Kings win series 4-0)
It's not very unusual for an 8 seed to do well in the Stanley Cup Playoffs. But it is unusual for an 8 seed to eliminate a 1 seed, then a 2 seed, and to do so in only 9 games. Dustin Brown has 6 goals in those 9 games. But the main reason LA is waiting for their next victim is the play of UMass alum Jonathan Quick. Only 14 goals allowed in those 9 games, a 1.55 GAA, and a .949 SV%. He's the best goalie in the playoffs right now.
DEVILS 4, FLYERS 2 - (Devils lead series 3-1)
Philly blew a 2-0 lead. The Flyers have a lot of talent, but they're inconsistent. They also depend heavily on Danny Briere scoring. Briere didn't even get a shot on goal in this game. The Flyers only got 20 pucks on Brodeur.
Game 5 Tuesday night in Philly.
Tonight's games:
7:30pm - Capitals @ Rangers - NBC Sports - Series tied 2-2
10:00pm - Predators @ Coyotes - NBC Sports - Coyotes lead 3-1