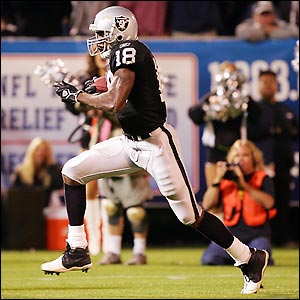 In a stunning move, the Patriots used a 4th round pick to trade for WR Randy Moss of the Oakland Raiders. A 4th round pick for one of the most talented receivers of our generation. A 4th round pick for a guy who can come in and be a #1 receiver. A 4th round pick for a guy who can come in and improve a receiver corps that already includes Donte Stallworth.
This deal is amazing. The best part of it is that we don't NEED Randy Moss in order to be a winning team. Unlike Minnesota, who depended a great deal on Moss, and Oakland, which was a horribly run team to begin with, if Randy Moss doesn't perform to our expectations, he's gone, no sweat. And if he does perform up to expectations, holy friggin crap.
We're looking at a potential WR position with Randy Moss, Donte Stallworth, Wes Welker, Reche Caldwell, Jabbar Gaffney, and Kelley Washington. This is all a tremendous improvement on a team that went 14-5, and was one score away from making the Super Bowl.
Moss has expressed a willingness to restructure/reduce his contract in order to reduce the salary cap hit the Patriots would take. The 4th round pick he's been traded for was the 110th overall.
The Patriots also traded their 91st pick (their 3rd round pick) to Oakland in a deal yesterday for Oakland's 2008 3rd round pick and a 7th round pick in this year's draft. Obviously, the Patriots haven't seen much desirable quality in this year's draft, but they're still making moves to improve the team. We've only selected one player midway through the 4th round, and I think the Patriots are having one of the best draft days in the NFL, simply with the future picks they've acquired, and the acquisition of Randy Moss.