The Red Sox are making their final scheduled trip to Yankee Stadium. And in honor of the Big Ballpark in the Bronx, as well as its 85 year tenants, I present a series of posts documenting some of the biggest, most expensive, and funniest failed Yankees in recent history. We'll have all your old favorites, and some you may have forgotten about.
We start the series with Carl Pavano.
Pavano is in the last year of a 4 year, $39.5M deal with the Yanks. In 2005, he hit the DL with shoulder problems. In '06, a "bruised buttocks" caused him to sit (or stand) on the sidelines. He broke his ribs in a car accident on August 15, 2006. But he didn't tell the Yankees about it until the 28th, right after they told him that he was going to be activated off the DL.
Mike Mussina publicly questioned Pavano's desire to play.
"[Pavano] is only looking at it from his perspective, we're looking at it from our perspective. We want him to go out there and show us that he wants to do this."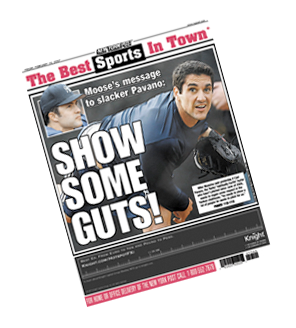 Pavano wound up rehabbing his arm in Tampa. But never visited his teammates whenever they were in town to play the Rays.
Pavano is a free agent at the end of 2008. In 4 years with the Yankees, he's made 20 starts, gone 6-6, thrown 116.1 innings, with a 4.80 ERA. The Yankees have been in the playoffs every year since he signed, but he hasn't made an appearance in October.
He's been paid about $2 million per start. $6.6 million per win. $340,000 per inning, $113,000 per out, $608,000 per strikeout.
Carl Pavano will go down in history for three things...
1. Being traded from Boston to Montreal for Pedro Martinez
2. Giving up Mark McGwire's 70th homerun
3. Being a Yankee failure
Sources:

MLB.com
Baseball-Reference.com