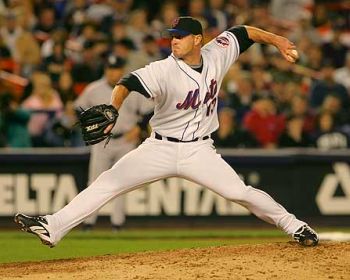 The Sox want Billy Wagner. The Mets want to dump Billy Wagner's contract. Billy Wagner doesn't want his $8M option for 2010 picked up. I don't see what the hold-up is.
Wagner can help bolster the Sox bullpen. The relatively innocuous comments from Jonathan Papelbon ("Has he pitched this year?) and Manny Delcarmen ("I think our bullpen is fine right now") notwithstanding, Wagner has 385 Saves in his career. He might turn out to be Eric Gagne 2.0, or he could bolster a bullpen that's lost it's early season form, and has been rundown by lackluster starters failing to go 7 innings.
There are some reports that Wagner's people (his agent has the laughably silly name of Bean Stringfellow) have made two conditions clear to the Red Sox:
1. They agree NOT to pick-up his 2010 option, so he can sign with a team as a closer.
2. That they do not offer him arbitration, allowing teams in 2010 to sign him without compensating the Red Sox with draft picks.
These are reasonable terms, to be sure. I don't want to spend $8M on Wagner in 2010. But the Red Sox denied being offered these conditions. So God knows what's actually going on.
But if the Sox make the playoffs, and subsequently do well in the playoffs, it will be because the starting pitching sorted itself out. It will be because of the return of Tim Wakefield, or perhaps Clay Buchholz finally settling in as a Major Leaguer. It will also be because JD Drew, Jason Bay, and David Ortiz figured out how to all hit at the same time.
This Billy Wagner situation might be more trouble than it's worth. Papelbon's comments aren't as bad as some have made them out to be, but they could just be the tip of the proverbial iceberg. Then there's how much Eric Gagne struggled to figure out his new role.
Sources:
ESPN.com
New York Post
AP via WBZTV.com