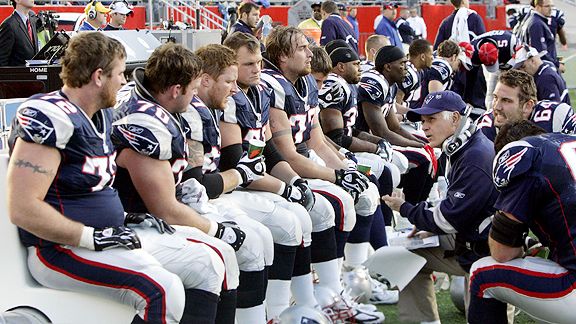 The offensive line allowed 48 sacks last season, after only allowing 21 in 2007. Part of that was due to a change in quarterbacks, but part of it was a slight deterioration of talent in the O-Line, which we saw beginning in Super Bowl XLII against the Giants.
But at the same time, the Patriots were able to rush the ball effectively in 2008. They averaged 4.4 yards per carry, as opposed to 4.1 in 2007.
The Patriots returned all 5 starters to their line. And that's almost always good news, as none of these guys have to get used to working with new colleagues. Matt Light is 31 years old, and isn't as fast as he used to be. And there is a bit less depth with the departure of Russ Hochstein. At the same time, German born Sebastian Vollmer looks like he could be the real deal. He's gotten a good amount of snaps in preseason, and the 6' 8", 315 pound Dusseldorfer looks like he could be the real deal.
The O-Line sent 3 Pro Bowlers to Hawaii in 2007. Do not expect that in '09. Their pass-protecting performance should be somewhere between 2007's stellar display, and 2008's more down-to-Earth play. They'll give the runningbacks some room, but won't cut huge holes for them to run through. Laurence Maroney will still struggle.
One thing that will help is the presence of Tom Brady and a very threatening offense. It takes a lot of balls for a D-coordinator to really attack the passer against the Patriots, knowing that Moss will be covered (open) man-to-man with Brady throwing the ball.
Source:
ESPN.com